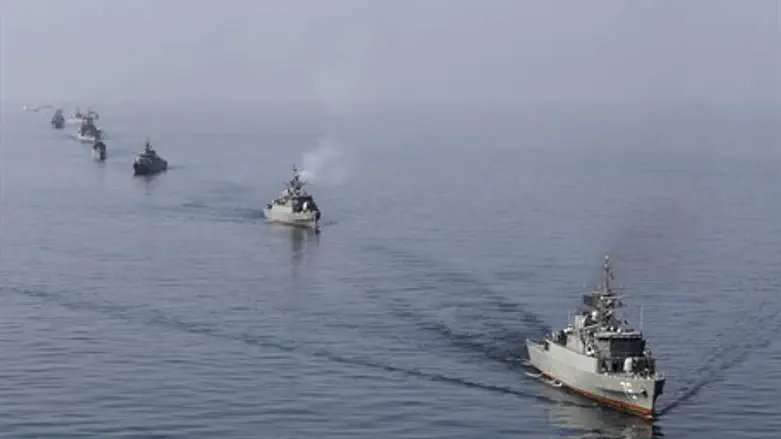 Iranian naval ships (file)
Reuters
Iran's Navy Commander Rear Admiral Ali Fadavi said on Wednesday, shortly after Iran released ten US sailors it had captured the day before after they strayed into Iranian waters due to a technical malfunction, that his forces were ready to blow US warships out of the water.
Fadavi, of the Islamic Revolutionary Guards Corps (IRGC) navy, warned that his forces were "awaiting orders" to shoot their coast-to-sea missiles at the USS Harry S. Truman aircraft carrier, which together with a French aircraft carrier and additional warships was maneuvering near Iranian waters, uncertain over the fate of the captive sailors.
"The USS Truman Aircraft carrier showed unprofessional moves for 40 minutes after the detention of the trespassers, while we were highly prepared with our coast-to-sea missiles, missile-launching speedboats and our numerous capabilities" and were ready to strike, Fadavi said according to the semi-official Fars News Agency.
"But we communicated an announcement through the international (radio) systems and prevented any further irresponsible moves by them," he said. "Then they came to realize the IRGC Navy has the first and the last word in here."
According to Fadavi, "the US and France's aircraft carriers were within our range and if they had continued their unprofessional moves, they would have been afflicted with such a catastrophe that they had never experienced all throughout the history."
"They could have been shot, and if they were, they would have been destroyed."
The admiral emphasized that the IRGC "exercises Iran's right of sovereignty powerfully" in the Strait of Hormuz and the Persian Gulf.
"The US and its Navy rest assured that they won't be the winner of any battle with Iran in the Persian Gulf and the Strait of Hormuz as destruction and sinking of their warships will be the end result of any such war. But in those 40 minutes, the Americans were clearly under intense psychological pressure and they did not act like a professional and responsible force," he claimed.
Shortly after the release of the prisoners, the IRGC released a statement admitting that the US ships entered Iranian waters by accident.
"Following technical and operational investigations and in interaction with relevant political and national security bodies of the country and after it became clear that the US combat vessels' illegal entry into the Islamic Republic of Iran's waters was the result of an unintentional action and a mistake, and after they extended an apology, the decision was made to release them," read the statement.
"The Americans have undertaken not to repeat such mistakes," it added.
However, while the Iranians demanded an apology and claimed they received one, the White House later on Wednesday denied it had apologized for the accident, which ended with Iran taking US military personnel hostage.
Iran later released photos of the US soldiers under captivity, which the State Department said was being investigated as it likely was a breach of the Geneva Conventions.