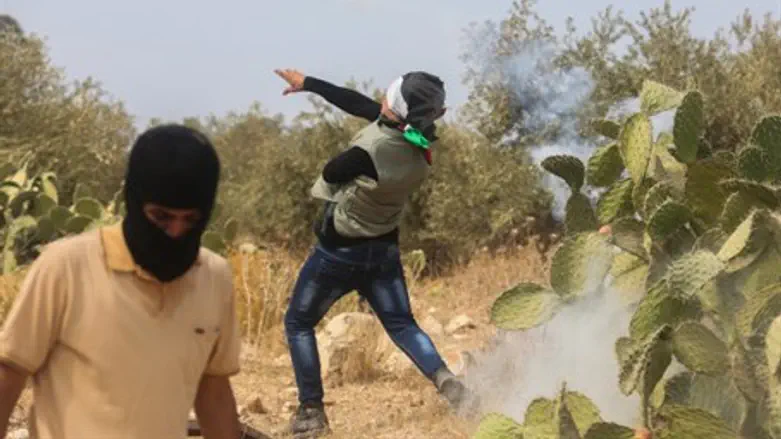 Rock-throwing Arabs
STR/Flash 90
The Israeli embassy in Britain sent a letter of complaint to a Muslim Labour MP after she claimed that no Israeli children had been killed by rock-throwing Palestinians, The Jewish Chronicle reported Monday.
During a parliamentary debate on child detainees and prisoners in Palestinian Authority-controlled territories, the MP Naz Shah claimed it was "absolutely unacceptable" to arrest children.
She then claimed the Israeli government had provided no evidence of Israeli children being killed or injured by Palestinian minors protesting in Judea and Samaria.
"The fact is that the disproportionality of someone throwing a stone or a rock and being detained for it is not acceptable," The Jewish Chronicle quoted Shah as having said at the debate last Wednesday.
Her Labour colleague Ian Austin responded by pointing out the case of four-year-old Adelle Biton, who was critically wounded in a rock attack on her family's car in 2013 and died two years later.
But Shah insisted, "The Israeli government have not provided any evidence of any child causing a death, or contributing to a death, using a stone. There is no evidence of that."
Eitan Na'eh, chargé d'affaires at the embassy in London, wrote to Shah on Monday to express his "profound concern" about her claims, according to The Jewish Chronicle.
In his later, Na'eh wrote that Palestinian minors had been involved in "deadly crimes" against Israeli civilians, including through the throwing of rocks.
 "I must impress upon you the fact that rock-throwing is a violent crime that can, and has, led to death on multiple occasions," he wrote, citing the case of Adelle Biton before presenting several other examples.
"In 2001 a five-month-old baby named Yehuda Shoham was killed when a rock thrown by Palestinian assailants smashed through the windscreen of the car his father was driving, crushing his skull," wrote Na'eh.
"Rocks thrown by two Palestinian men in 2011 hit Asher Palmer in the head, causing his car to veer off the road and overturn, killing both him and his infant son Yonathan. These rocks…were lethal weapons," he added.
Na'eh also highlighted the murder of five members of the Fogel family in 2011 after they were knifed to death by two Palestinian teenagers.
Shah has not responded to the letter, noted The Jewish Chronicle.
Shah represents the constituency of Bradford West, which she won in the last election from George Galloway, who has since launched legal proceedings against Shah.
Galloway, of course, is notorious for his own history of anti-Israel statements and actions. He was branded a racist when he stormed out of a debate after finding out that his opponent was Israeli, saying "I don't debate with Israelis."
In addition, he has publicly aired several bizarre anti-Israel conspiracy theories, including claims that Israel was engineering unrest in Ukraine, and that the Jewish state had given chemical weapons to Al-Qaeda - comments he then denied making despite them having been recorded.