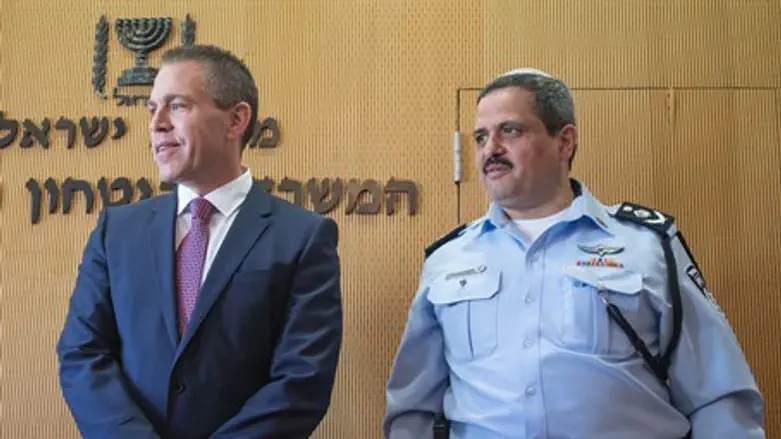 Gilad Erdan, Roni Alsheich
Yonatan Sindel/Flash 90
Internal Security Minister Gilad Erdan (Likud) on Monday said that in light of the difficulty tracking down Arab Israeli terrorist Nashat Milhem, who apparently received wide aid from his fellow Arab citizens, he intends to recruit more Arab officers to the police force.
Erdan's comments came at a police ceremony with incoming police commissioner Roni Alsheich, in which new appointments and ranks were handed out.
"We all certainly did not need the events of recent days in order to know that we have a lot of work with the Arab sector," Erdan told the officers and commanders at the event, reports Channel 10.
"We must appear in the Arab street in full presence, facing the community and serving it. We must recruit new officers from the Arab society, and integrate them in the organization in a much, much larger scope than what there is today."
Erdan added, "we will integrate many more foot patrols in the crowds, and in places the public needs us, and we will appropriate our 'policing suit' to the needs of the public."
His comments come just a week after a shocking incident in which hundreds of armed Hamas terrorists fired in the air with automatic weapons early last week, at the funeral of a terrorist in the Shuafat neighborhood in northeastern Jerusalem attended by thousands armed with knives and machetes.
Regarding the Milhem case, on Monday the main suspect who is thought to have helped plan the attack in Tel Aviv that left three murdered had his arrest extended by another eight days. The suspect is a relative of Milhem.
Police on Sunday revealed that there may have been as many as 20 accomplices who either actively gave aid to Milhem, or else recognized him walking around armed in his hometown of Arara in the north where he was found and chose not to report him. Residents of the town revealed that "many people knew" he was hiding out there, apparently aided by his family, and kept quiet.
Erdan's talk of integrating the Arab public in the police to a much larger scope, apparently indicating appointing them to high positions within the organization, comes as incidents such as Milhem's attack cast doubts on how the Arab public views Israel.
Last November, a poll found 57% of Israeli Arabs feel the radical Islamic Movement in Israel that is funded by Hamas represents them faithfully, and 18.2% of Arab Muslim citizens of Israel said they are not ashamed of Islamic State (ISIS), and do not view it as a terrorist organization.