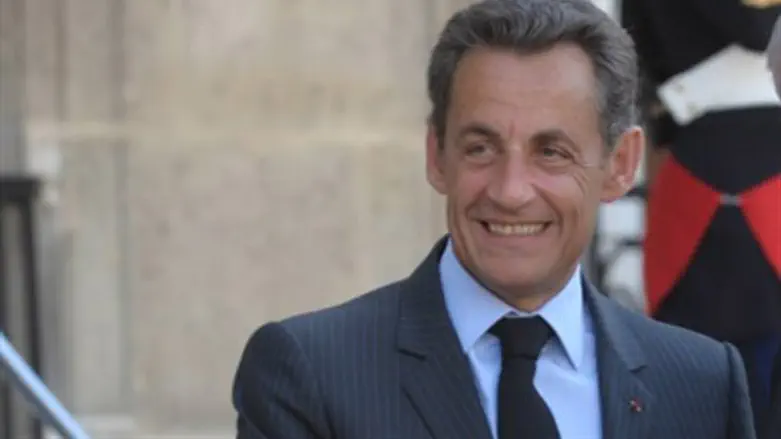 Party leader Nicolas Sarkozy has said he won't tolerate 'slip ups'
Flash 90
Former French President Nicolas Sarkozy delivered a blistering critique of anti-Semitism in France Sunday evening.
Speaking at a dinner in London honoring for his work protecting France's Jewish minority during his time in office - both as president and, before that, interior minister - Sarkozy warned that the current rapid rise in anti-Semitism in his country was a betrayal of everything Europeans fought for against Nazi Germany.
"We do not want French Jews to leave France because they are afraid," he said. "We want them to be comfortable to wear a kippah." 
"We must stand up to protect our Jewish communities. It is impossible not to." he told his audience, among them dignitaries including British Chief Rabbi Ephraim Mirvis and Conference of European Rabbis President Rabbi Pinchas Goldschmidt.
"We did not fight the Nazis to force the Jews to run to Israel 70 years later."
During the event Sarkozy was awarded with the Rabbi Moshe Rosen prize, named in memory of the former Chief Rabbi of Romania who dedicated his life towards protecting Jewish life under communist rule.
While anti-Semitism in France has been a serious problem for at least the past decade, the past several years have seen the levels of anti-Jewish hate-crimes soar. The intolerable levels of anti-Semitic crime have pushed thousands of French Jews to emigrate, most to Israel but many to the UK and other western countries.
Just one day after his speech, a Jewish teacher was assaulted by a machete-wielding Muslim youth as he made his way to school.