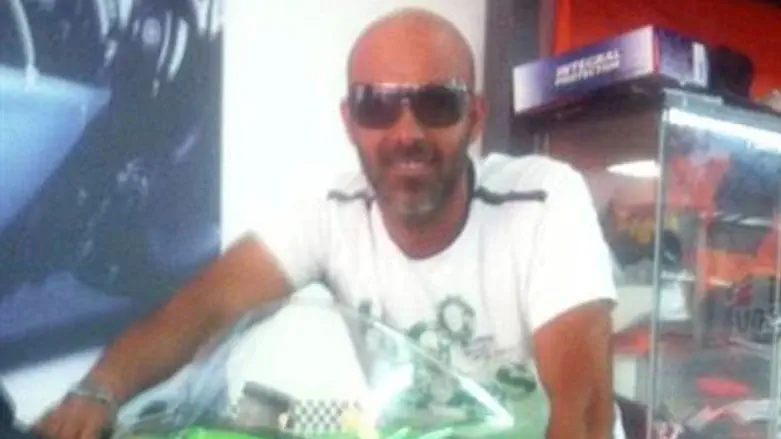 Amin Shaban
Courtesy of the family
Police on Wednesday night partially lifted a gag order on the search for Tel Aviv gunman Nashat Milhem, and have officially named him as the prime suspect in the murder of taxi driver Amin Shaban.
The publication of the information was quickly followed by outrage from the Shaban family at the police's handling of the case.
"The police didn't inform us of anything," brother Razi Shaban told Channel 2. "They just now left a message."
"We requested documentation of the murder, but police refused to transfer it to us," charged another relative of the slain 42-year-old from Lod. "A camera system was installed in the cab, and we must see this material, but unfortunately we've been unsuccessful." 
The relative told Yedioth Ahronoth the family had a court hearing Thursday over forcing police to release more details of the murder.
"Shaban was killed in cold blood," he continued. "This murder has a price and it will not be for free. The whole family is involved. The killer will pay the price. If they find him, I'd prefer they kill him rather than sending him to jail."
"We're living in a very difficult atmosphere," the relative added. "I can't digest that police and security forces haven't caught the murderer. Where did he disappear to? We also have our people looking for him. I don't know if they'll give him into police if they catch him."
While many Israelis have come to Lod to comfort the family, Razi Shaban was outraged Police Commissioner Roni Alsheich had visited the families of Milhem's other victims, but had not bothered to offer condolences to the cab driver's family. 
"Why for them yes and for us no," Shaban slammed. "Why is this white and this black? It's disgusting, it's not suitable. Not to come to console a man? They went north and south, between this and that, and they couldn't find the time to come?"
Shaban's other relative similarly emphasized that not one person had come from Wadi Ara, where the terrorist's family resides. 
"The [Milhem family] didn't even send people to ask forgiveness in their name. It's very sad," the relative opined. "He who erred needs to repair his actions and not go to sleep. There's a serious problem here that needs to be closed."
On Wednesday, when Milhem's brother Juadat was released from police custody, he called on Nashat to hand himself over to authorities, and insisted no other family members knew of his plans.