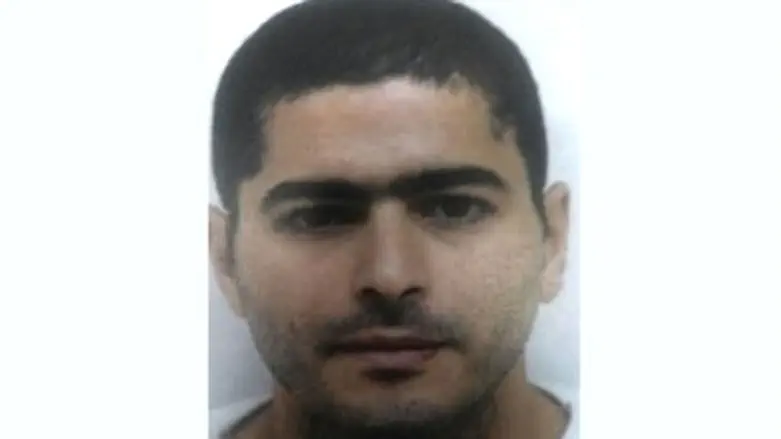 Nashat Melhem
Handout photo
The police and ISA released on Monday a 2013 photo of Tel Aviv terrorist Nashat Melhem, after public criticism over the failure to do so earlier.
It is still not clear why the authorities took so long to distribute a relatively clear and up-to-date photo of the murderer, who is at large, armed and dangerous.
According to Ha'aretz, the Israel Security Agency (ISA or Shabak) initially thought it would be better to look for the terrorist without publishing his name and photo at all. Police Commissioner Roni Alshech, who was Deputy Head of the ISA until recently, initially agreed with the ISA but then changed his mind.
Public Security Minister Gilad Erdan said Monday that there is no reason to think that Melhem was still in Tel Aviv, three days after Friday's attack in the city, rather than in another part of the country.
On that note, he stressed that he could not give further details regarding the investigation of the incident. "I can understand the concern, but Tel Aviv now has unprecedented security and the public should continue in their daily routine."
Meanwhile, police forces, along with Shin Bet agents, are continuing their extensive searches in Tel Aviv in an attempt to track down the terrorist, who killed Shimon Ruimi and Alon Bakal this past Friday in Tel Aviv.
Nashat Melhem is suspected of also killing the taxi driver Amin Shaban shortly after his attack in the heart of Tel Aviv, though this speculation has not been confirmed.
The other relatively recent photo of Melhem that has been made public shows him with glasses similar to those he wore during the attack. However, the photo is less clear. He appears to be wearing an orange prison jumpsuit.
Nashat Melhem
Handout photo
In July 2007, Melhem was convicted of attempting to steal a soldier's gun at Karkur Junction to the east of Hadera. His father, a volunteer in the police (and, some suspect, a collaborator with the ISA), who has a permit to carry a weapon, asked that he be released and in exchange offered to supervise him. Apparently the authorities saw nothing wrong with the proposal, and let Melhem go.
The director of the addiction treatment center, who refused to take in Melhem in 2007 following a professional diagnosis, wrote at the time: "After a conversation with him we got the impression that he needs continued treatment and psychiatric surveillance due to strange behavior," wrote the director. "He spoke about having a superpower and the ability to prophesy things. The entire world is negative and only he can fix it. He also was easily annoyed."