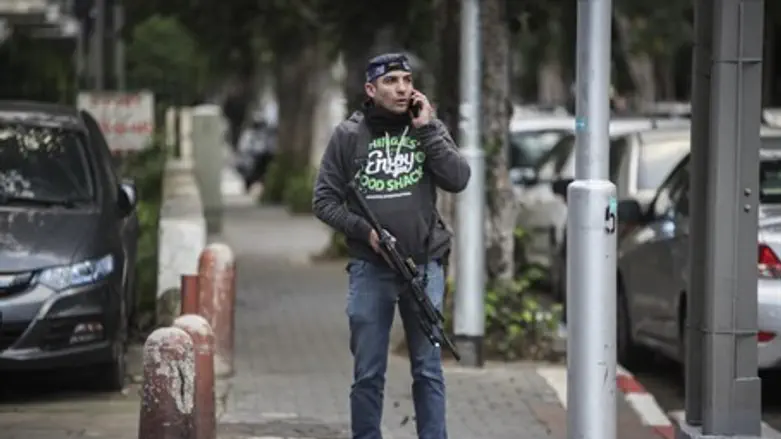 The search in Tel Aviv
Esther Rubyan/Flash 90
Huge police forces continue to hunt for Nashat Melhem, the Arab citizen who murdered two Israelis Friday afternoon in a shooting attack at a pub on Dizengoff Street in Tel Aviv. Yet as the third day of the manhunt winds down, Melhem still remains elusive.
Alon Bakal (26) and Shimon Ruimi (29) were murdered in the attack and several others were wounded, and an hour later the body of taxi driver Amin Shaban was found shot dead in the north of the city, with suspicions high that Melhem murdered him as well.
Tel Aviv district police spokesperson chief superintendent Hila Hamo said Sunday that the public is asked to continue being vigilant and alert, and not to hesitate reporting any and all suspicions and information to the 100 police emergency hotline phone number.
"The 100 hotline has seen a noted increase since the incident occurred, which shows the alert and necessary cooperation by the residents who are showing responsibility," said Hamo.
Police are boosting their presence in Tel Aviv and the surrounding environs, with forces in uniform and undercover alike operating on the streets.
However, Melhem has yet to be found, and residents revealed he worked as a delivery boy at a vegetable store in Ramat Aviv in the north of the city for many years, meaning he is very familiar with the lay of the land.
"We ask to continue to obey the instructions and orders of the officers, since this is a very dangerous suspect," said Tel Aviv district police.
Melhem, who hails from Wadi Ara in the north, opened fire on Friday afternoon at the Simta pub on Dizengoff Street with a semi-automatic rifle. After letting off several dozen rounds, he fled the scene and an hour later Shaban's body was found in north Tel Aviv.
Authorities have issued a gag order on publishing details regarding the investigation of the two murders.
Various technology resources are being used to track down Melhem, who appears to still be in the Tel Aviv area. On Saturday a personal item belonging to him was found in Ramat Aviv where he previously worked.