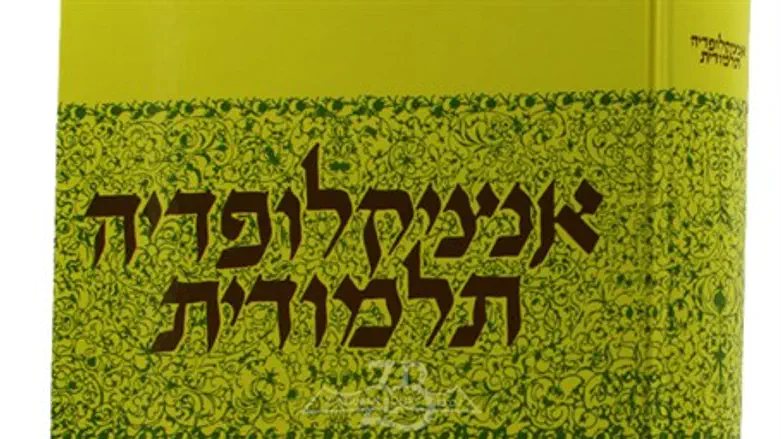 Encyclopedia Talmudi
Photo Credit: Orli Harrari
A special ceremony marking the 70th anniversary of the publication of the Encyclopedia Talmudit will take place at the President's Residence in Jerusalem on Monday.
Seventy years ago, Rabbi Meir Bar Ilan and Rabbi Shlomo Zevin created the Encyclopedia Talmudit. More than 1 million editions have been published and it comprises 1,300 entries. The encyclopedia is one of the more important publications in the Jewish tradition and even high-ranking judges have used it and quoted it while formulating their legal decisions.   
Event organizers have stated that the encyclopedia is a work that is unlike any other in halachic literature in its explanation and summarization of the large body of knowledge of halachic literature from the time period of the Tanach until modern times.
"Especially in today's age, where so much unchecked and subjective information is drowning our world, the encyclopedia is one of the most vital resources for learning the Talmud and the Halacha when dealing with the academic study of the Torah as well as other modern fields including the study of law," the organizers said. 
During the celebration, President Reuven Rivlin will address the connection and importance the Talmud holds within Jewish tradition. The Chief Rabbis of Israel, Rabbi David Lau and Rabbi Yosef Yitzchak will also be speaking. Other notable speakers include Culture Minister Miri Regev and Moshe Shapiro, Chief Executive Officer of Yedidut Toronto.   
Rabbi and Professor Avraham Steinberg is the current director of the Encyclopedia Talmudit. He has a PHD, and is a winner of the Israel Prize for his monumental work of "The Halachic Medical Encyclopedia' which is comprised of seven volumes in Hebrew and three in English.