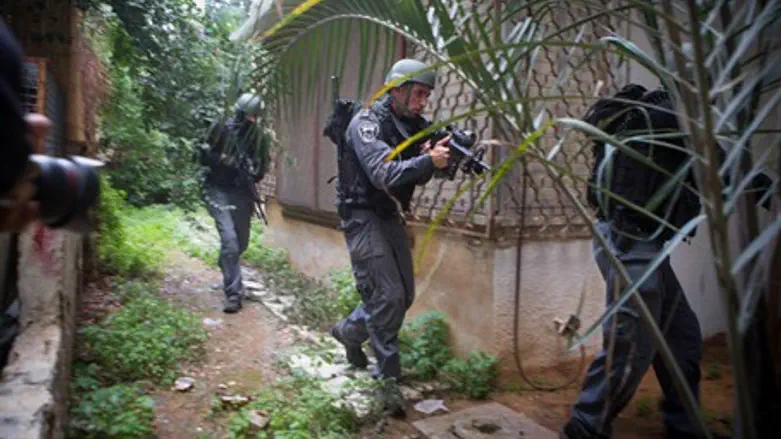 Manhunt for terrorist who carried out attack in Tel Aviv
Miriam Alster/Flash 90
While security has been set to increase in schools around the Tel Aviv Metropolitan area, some parents have decided they will not be sending their children to school until Friday's terrorist has been apprehended.
It is believed that Melhem is armed and still poses a continued threat to the city. While the city council has decided to place additional security forces to all of the schools across the city, many parents are still fearful. 
"I refuse to go to work and I refuse to send my child to school," said Hadar, a Tel Aviv resident and mother of Avigayil. "I am very afraid."
Other parents are sending their children in spite of the fear. Worries are even more elevated for parents of children in private nurseries and pre-schools which do not fall under the rubric of city auspices and therefore will not receive the extra security measures.
Shir, a mother of three told Channel 2, "We are worried that the terrorist will break into one of the kindergartens and harm the children. So far we have not found any private security company that is willing to come in and help man the security posts. In spite of promises that security forces will be making extra sweeps, we are still on edge."
The crisis has affected the teachers as much as anyone else. Sairt, a teacher at one of the elementary schools reported that an email went out to all of the teachers at her school explaining how to deal with the situation, and whom to talk to should there be an incident in the classroom.
"I still don't know what I am going to say to the children. It depends on what they know and what they bring with them to the classroom. We need to tell the students the truth that is appropriate for them to here based on what they already know. We also need to evoke a sense of security and to pass on a message that will strengthen them."     
Mariana, a youth worker at one of the children's community clubhouses in the southern part of the city said that there has not yet been a final decision made regarding whether or not the clubhouse will stay open today and tomorrow. They are currently hoping that the Melhem will be caught before they will need to decide.
"The discussion tomorrow will be hard," Mariana said. "We will need to explain to them, that in spite of the dire situation, that we will carry on with our activities as normal. I prefer to be together and to talk about the situation rather than have them sit at their homes by themselves.
City officials as well as security officials have said they are increasing security measures and the number of security personnel throughout the city until Melhem is apprehended.