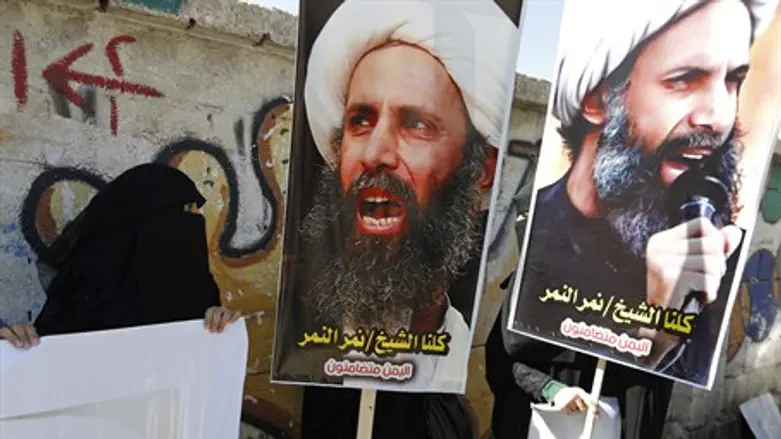 Protesters carry posters of Nimr al-Nimr
Reuters
The United States expressed concern on Saturday that Saudi Arabia's execution of prominent Shiite cleric Nimr al-Nimr could exacerbate sectarian tensions, and urged all leaders in the Middle East to "redouble efforts" to de-escalate regional tensions, Reuters reports.
"We reaffirm our calls on the Government of Saudi Arabia to respect and protect human rights, and to ensure fair and transparent judicial proceedings in all cases," State Department spokesman John Kirby said in a statement following the execution of al-Nimr and 46 other people.
The executions, which also included dozens of Al-Qaeda members, stirred sectarian anger, including a march by hundreds of Shiite Muslims in Saudi Arabia's eastern province.
As well, angry Iranian protesters stormed Saudi Arabia's embassy in Tehran in the early hours of Sunday, smashing furniture and starting fires before being removed by police.
In Hawaii, where President Barack Obama is on vacation with his family, White House deputy national security adviser Ben Rhodes said the administration has urged the Saudis to show restraint regarding respect for human rights.
"We broadly I think have concerns about human rights issues in Saudi Arabia, and again we also would like to see steps taken by Saudi Arabia and other countries to reduce sectarian tensions in the region," Rhodes said, according to Reuters.
Kirby noted that Washington has previously expressed its concern about the Saudi legal system, and raised those concerns at high levels with the Saudi government.
"We are particularly concerned that the execution of prominent Shiite cleric and political activist Nimr al-Nimr risks exacerbating sectarian tensions at a time when they urgently need to be reduced," Kirby was quoted by Reuters as having said.
"In this context, we reiterate the need for leaders throughout the region to redouble efforts aimed at de-escalating regional tensions," he added.
Nimr was a driving force of the protests that broke out in 2011 in Eastern Province, where the Shiite minority of Saudi Arabia complains of marginalization.
He was arrested in 2012, with the Interior Ministry describing him as an "instigator of sedition".
Saudi Arabia is notorious for its violations of human rights and specifically those of women, employing a religious police whose job is to enforce Islamic Sharia law.
Despite this, the kingdom holds a seat on the UN Human Rights Council and was in September selected to head an influential panel on human rights.