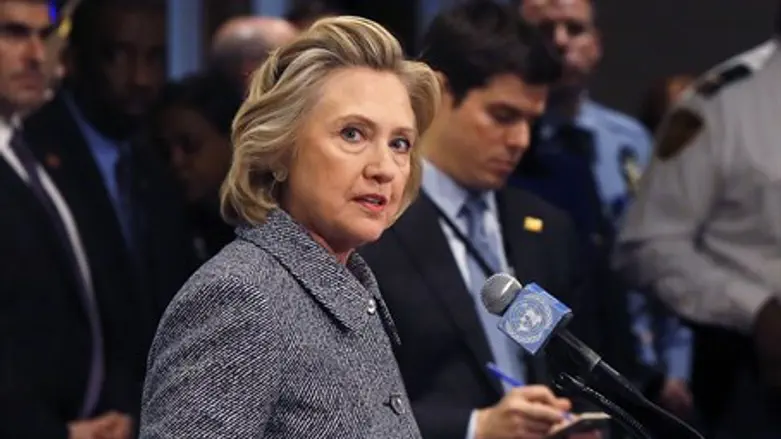 Hillary Clinton
Reuters
Democratic presidential candidate Hillary Clinton has been under fire for using a private, unsecured email server during her stint as secretary of state, and on Thursday the US State Department released another 3,105 of her emails from the server.
The State Department has fallen short of its mandate to release 82% of the emails by the end of 2015, although another batch is expected sometime next week.
No fewer than 275 of the newly released emails have been upgraded to "classified," bringing the total number of classified documents in Clinton's private email server up to a full 1,274 so far.
A State Department official told Fox News that two of the newest emails were upgraded to "secret," with most of the rest being determined to be "confidential."
Last September, National Security Administration (NSA) director Mike Rogers admitted Clinton's server was a severe security risk and a probable target of foreign spies, echoing statements by former Defense Intelligence Agency director Michael Flynn, who last April said it was "likely" spies breached into Clinton's emails.
Clinton used the private email address during her entire four years as secretary of state, despite the fact that US President Barack Obama signed in a law saying government email accounts must be used on official business.
Clinton's confusion
One particularly troubling facet revealed in the latest batch of emails is the confusion Clinton had regarding her emails, raising concerns even higher that she had placed classified information in danger on her private server during her time as secretary of state.
In one exchange from September 2010 between Clinton and one of her closest aides, Jake Sullivan, Clinton wrote on a Sunday morning that she didn't know which of her emails he was getting.
"I'm never sure which of my emails you receive, so pls let me know if you receive this one and on which address you did," wrote Clinton.
Sullivan answered a few hours later, writing: "I have just received this email on my personal account, which I check much less frequently than my State Department account. I have not received any emails from you on my State account in recent days - for example, I did not get the email you sent to me and (Assistant Secretary for Near Eastern Affairs Jeff) Feltman on the Egyptian custody case. Something is very wrong with the connection there."
In January 2012 Clinton also said in an email to Jamie Rubin, a diplomat and journalist, that she was having trouble with her BlackBerry, further indicating the vulnerability and lack of security in her email system.
"Sorry for the delay in responding," she wrote, adding that her BlackBerry was having "a nervous breakdown on my dime!"
"Putting secrecy over national security"
In response to Thursday's release of new classified emails, Republican National Committee (RNC) chairman Reince Priebus issued a statement strongly condemning the Democratic candidate.
"With more than 1,250 emails containing classified information now uncovered, Hillary Clinton's decision to put secrecy over national security by exclusively operating off of a secret email server looks even more reckless," said Priebus.
"When this scandal first broke, Hillary Clinton assured the American people there was no classified material on her unsecure server, a claim which has since been debunked on a monthly basis with each court-ordered release."
"With an expanded FBI investigation underway and new details emerging about the conflicts of interest her server was designed to conceal, Hillary Clinton has shown she lacks the character and judgement to be president during this critical time for our country," concluded the RNC chairman.
Clinton's released emails also appear to show she will be hostile to Israel; in November she said she would impose peace talks on the Jewish state - a statement also made by Republican front runner Donald Trump shortly afterwards in December.