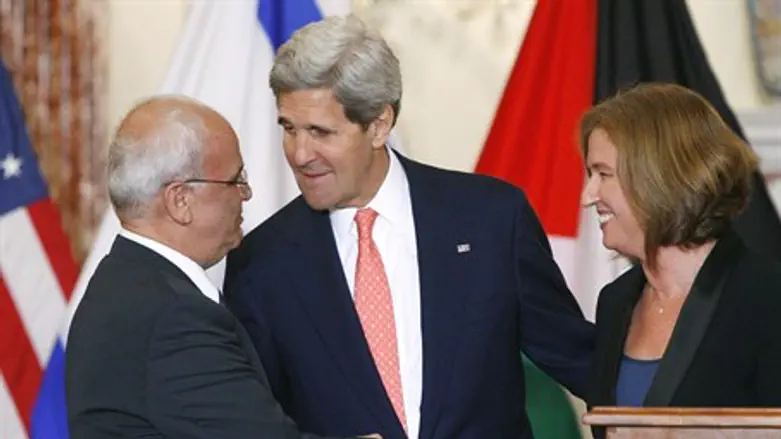 Israel-PA peace talks in 2013
Reuters
Israel has conditioned a return to peace talks with the Palestinian Authority (PA) on an end to the current wave of terror, Walla! News reported on Wednesday, citing senior Palestinian officials.
According to the sources, during several recent high-level security-related meetings between Israeli representatives and PA representatives, the PA representatives raised the possibility of resuming peace talks in an attempt to restore calm to the region.
The officials reportedly set several conditions already made in previous discussions between Israel and the PA, including a freeze on construction in Judea and Samaria, an agreement on negotiations on the pre-1967 borders, and the release of 36 terrorist prisoners who were supposed to be released during the last round of talks that broke down in 2014..
However, according to Walla!, the Israeli officials from the defense establishment made clear that only if the current terror wave stops will Israel be able to consider resuming the peace process and making gestures to the PA.
Israel-PA peace talks have been frozen since 2014, when the PA unilaterally joined international organizations in breach of the conditions of the talks.
Since then, the PA has been on "diplomatic offensive" against Israel, joining international organizations such as the International Criminal Court (ICC) and submitting "evidence" of alleged Israeli war crimes against Palestinians with the intent of having the court prosecute Israel.
PA officials who spoke to Walla! have emphasized that there have been no diplomatic channels between the PA and Israel since the cessation of talks conducted by former Minister Silvan Shalom and chief PLO negotiator Saeb Erekat. The officials told the news website that Israel made it clear even then that the talks could not lead to a change in policy so not much importance was attributed to them, even on the part of PA chairman Mahmoud Abbas.
They also said that despite the absence of a peace process, the Palestinian Authority maintains security coordination with Israel and works to prevent attacks, both by individual terrorists and by terrorist organizations, especially Hamas.
Earlier this week Kol Yisrael radio revealed that Erekat had proposed secret negotiations during a meeting on July 24 in Jordanian intelligence offices in Amman with Shalom, who was in charge of negotiations with the PA.
The station said that Erekat and Shalom met again three months later in Cairo, where Shalom notified Erekat that the Israeli government rejected his proposal about secret negotiations.
Erekat confirmed holding meeting with Shalom, but denied offering secret negotiations.