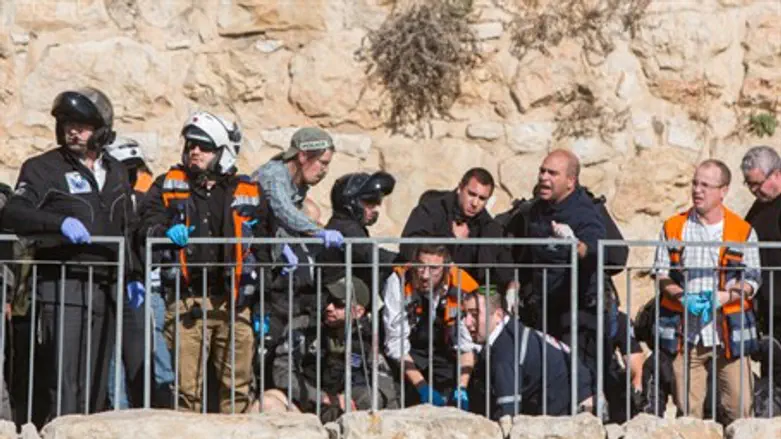 Treating terror victims outside Old City, 23-12-2015
Yonatan Sindel/Flash90
The Israel Trauma Coalition (ITC) revealed Wednesday that 8,000 Israelis are undergoing medical treatment for PTSD developed during the ongoing wave of Arab terror in Israel. 
According to the ITC's data, for every Israeli killed, 27 witnesses to the attack must undergo physical and psychological rehabilitation. 
ITC Director Talia Levanon stressed to Army Radio on Wednesday morning that more needed to be done to help these trauma victims. 
"This is a long war," she noted. "We call terror victims [suffering from trauma] the 'transparent injured,' because we don't see them. The circle of injury is so broad that the circles of support need to be large as well."
"An elderly person today, during the 'knife intifada,' might think twice about leaving his house, because a knife is a very personal thing. It's not a rocket that hits the entire community, [a knife] especially harms weak people, those who find it difficult to run."
"We need to provide tools to these people to cope with the emotional impact created by these events," Levanon insisted.