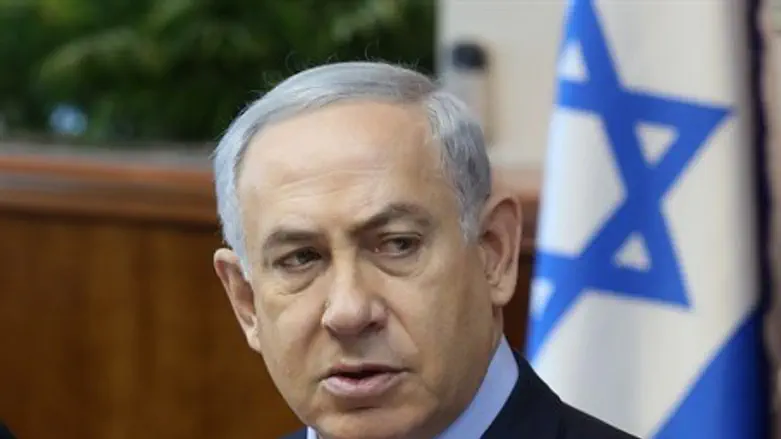 Binyamin Netanyahu
Marc Israel Sellem/POOL
Prime Minister Binyamin Netanyahu spoke on Wednesday about the murder of Ganedi Kofman, who passed away earlier in the day after being hospitalized for over three weeks struggling to recover from an Arab terrorist stabbing attack at the Cave of Machpelah in Hevron.
At the start of a Cabinet meeting, Netanyahu sent his condolences to Kofman's family, noting the victim "was the gardener at the Cave of Machpelah," an ancient site where the Jewish patriarchs and matriarchs other than Rachel are buried.
"He was stabbed in a murderous assault several weeks ago. Sadly, he did not recover," said Netanyahu.
"This morning as well, I say to all those who would uproot us from the Tomb of the Patriarchs - except for a few years in the previous century, we have been there for almost 4,000 years and we will stay there forever. You cannot defeat us."
Netanyahu's comment was met with criticism by Eliezer Rudrig, chair of the Likud branch in Kiryat Arba/Hevron, and a member of the Kiryat Arba/Hevron Regional Council.
In response to the prime minister's statement, Rudrig called on him "to make actions and not statements. The first thing is just to come to the Cave of Machpelah, something you haven't done for many years."
"In addition, for over 20 years we have been praying in rain and snow, cold and heat, and there is no roof in the Cave of Machpelah. Building the roof is dependent only on your approval," he said, addressing Netanyahu.
"Currently the Cave of Machpelah is not handicapped accessible, which is also dependent only on your approval."
"In order to preserve the site, we who live in the city of the patriarchs need to continue to build; allow us to live in Machpelah House and approve building plans for new neighborhoods outside of Kiryat Arba/Hevron," continued Rudrig.
The local Likud head concluded: "sympathy is a good start, but real actions are needed too, first of all by stopping the discrimination against Jews (regarding building permits - ed.). We have a history, the future depends on us."
The government enforces a strict limit on Jewish residence in Hevron, and the Cave of Machpelah site is split between Jewish and Muslim control, with access to the side housing the tomb markers of Yitzhak (Isaac) and Rivka (Rebecca) only open to Jews ten days of the year.