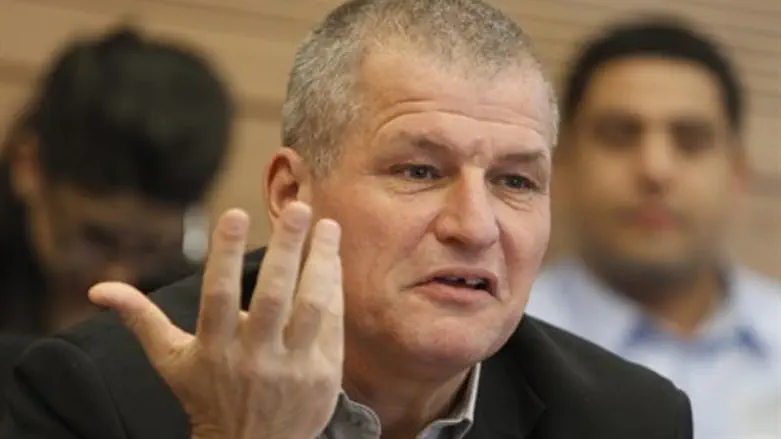 MK Mickey Rosenthal (illustrative)
Flash90
MK Manuel Trajtenberg (Zionist Union) and MK Mickey Rosenthal (Zionist Union), both members of the Finance Committee, have asked Committee head Moshe Gafni (UTJ) and Finance Minister Moshe Kahlon (Kulanu) to cancel the tax benefits for Honenu.
According to the MKs, Honenu is "an organization that encourages and supports terror, and harms the security of the state."
Their message stated, "The organization Honenu not only provides legal guidance to Jews suspected of terror attacks, but organizational funds are transferred to Jewish terrorists and their families even after they are convicted. We are talking about supporting terror and a serious harm to the security of the state. Terror financers receive tax benefits from the public's pockets."
In light of these charges, MKs Trajtenberg and Rosenthal demand that Honenu be removed from the tax benefit list. The benefits would are scheduled to expire on December 31 and need approval to be reinstated.
MK Trajtenberg says, "Just this morning we against heard how members of Honenu are attacking the Shin Bet, and all on the backs of taxpayers. This is an absurdity that borders on folly, that an organization which attacks the Shin Bet every day and tried to harm the country from within, receives tax benefits from the government. The reality in which the Finance Ministry gives benefits to organizations that work against security forces must be adjusted.
MK Rosenthal added that "The organization Honenu is asking to harm the Israeli public and to challenge democracy even as it receives financial benefits from the state. Hundreds of thousands of shekels are given by Honenu to murderers convicted of supporting terror. As long as this situation continues, the government is effectively cooperating with Jewish terror. Words and denunciations are not effective. We will fight for removing the organization and those like it from tax benefits, and then banning them."