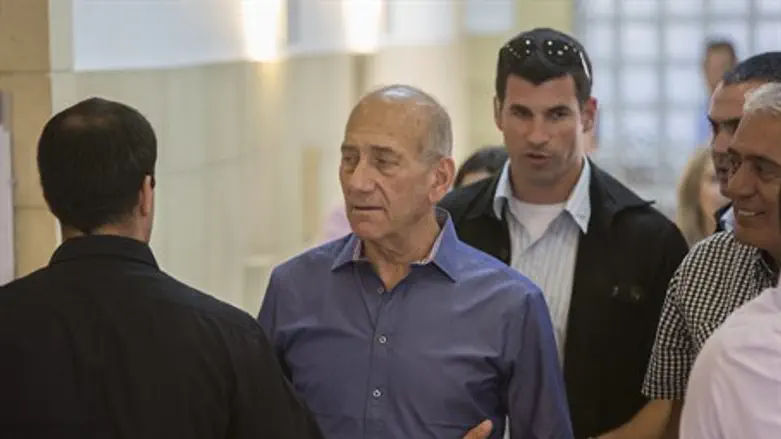 Ehud Olmert in Court
Yonatan Zindel
Five Supreme Court justices have examined the appeal by former Prime Minister Ehud Olmert and partially accepted the appeal. He will serve 18 months in prison.
He will begin his sentence on February 15.
Olmert was found guilty in 2014 on two counts of bribery and sentenced to six years in prison, two years probation, and a fine of one million shekels ($257,000 US). He was also ordered to forfeit 560,000 shekels ($144,000 US) in assets.
While the Supreme Court has now absolved him from the charge of receiving a 500,000 shekel ($187,000 US) bribe, it unanimously upheld his convicted of receiving 60,000 shekels ($15,000 US) in a separate bribe.
"A heavy weight was removed from my heart when the Supreme Court ruled that I am not guilty of the main crime - the Holyland affair," said Olmert. "That was, for me, a dark cloud over my head and over my family. I have previously said that I was never offered and I never received bribes, and I say this again today. Naturally, I accept the decision of the Supreme Court."
Seven other people were also found guilty in the case, including former Jerusalem Mayor Uri Lupolianski. The crimes revolved around Jerusalem's Holyland property development. Prosecutors claim that Olmert, during his term as mayor of Jerusalem, received 500,000 shekels in bribes in exchange for easing the approval process for Holyland.
The court has accepted Lupolianski's appeal, and he will not go to prison.
Olmert will be the first Israeli prime minister sent to prison. Former President Moshe Katsav is also currently in prison, though he may soon be released on parole.