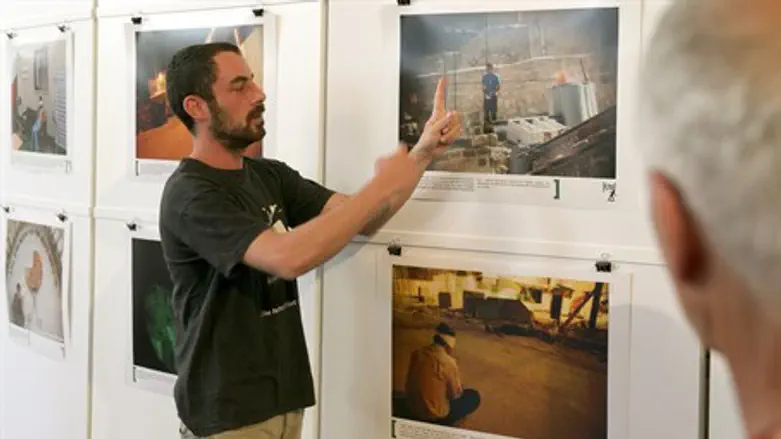 "Breaking the Silence" activist leads an exhibit of Israeli "war crimes" in Zurich
Reuters
The practice among many European Union European states to fund extremist anti-Zionist groups inside Israel is so entrenched that it has become an integral part of those countries' foreign policies, a leading expert has said.
Professor Gerald Steinberg, who heads the NGO Monitor watchdog which tracks extremist anti-Israel NGOs, explained to Arutz Sheva that that troubling fact was the reason behind his group's surprise withdrawal of its previous firm opposition to the so-called Transparency Bill, which was officially approved by the Israeli government yesterday.
The bill, sponsored by Justice Minister Ayelet Shaked (Jewish Home), is the latest incarnation of a string of similar, failed legislative proposals to expose the degree to which foreign - primarily European - states are attempting to impose their policies on the State of Israel by funneling tens of millions of euros annually to extremist left and Arab NGOs inside Israel. It would mandate NGOs which receive more than 50% of their funding from foreign states to reveal their sources of income, and with approval from the Ministerial Committee on Legislation it now seems highly likely that the bill will become law once it comes up for a vote in the Knesset.
Prior to yesterday's vote, NGO Monitor had opposed the bill, opting instead to engage directly with European politicians and diplomats to explain to them the harm that their countries' funding of "anti-peace" NGOs was causing to the cause of peace they claimed to be interested in.
While NGO Monitor will continue its efforts on that front, Steinberg explained that the twin obstacles of bureaucracy-induced ignorance and outright anti-Semitism meant EU states were unlikely to come round any time soon - and that in the meantime Israel has every right to protect its sovereignty in the face of a seemingly-endless assault-by-proxy.
"In Europe, while governments provide tens of millions of NIS every year to Israeli, Palestinian and other political NGOs, the top officials, MPs, journalists, and others are largely unaware of the amounts, activities, or agendas of the groups that receive taxpayer funds," Steinberg explained. 
"In many cases, the funding process is entirely secret in order to prevent criticism, and even ambassadors to Israel from European countries are not involved in or informed of NGO funding decisions made in their home countries, and, in the case of the EU, in Brussels," he added.
Via detailed reports and face-to-face engagement, NGO Monitor aims to "enable these officials to perform the due diligence that should be done whenever government money is spent, and in particular, when it is used to manipulate another democratic society (Israel)."
But despite the issue being on the radar for several years at least, European states - including those considered close allies of Jerusalem such as France and Germany - are still funneling millions into radical anti-Israel groups.
"It is clear that unless there is a major change in the activities of European officials who have responsibility for this destablizing and dangerous NGO funding used to oppose peace and demonize Israel, including through BDS, there is no alternative other than through Knesset legislation to protect Israeli democracy," Steinberg asserted.
He noted that this policy is nothing new, with Europe having long ago identified a clear weak spot to manipulate Israel, whose laws governing NGO funding and conduct are far more lax than most western countries, including in Europe and North America.
"In the mid-1990s, some EU and Western Europe officials 'discovered' the ease with which Israeli NGOs could be used to advance their interests and ideologies on Israel. So the first factor is the exercise of political power and manipulation," Steinberg said, explaining how and why the policy took root.
"But over the years, other factors became apparent - including general naivete about NGO politics (known as the halo effect), and for some European officials including in Brussels, anti-Semitism, in its new form of anti-Zionism and double standards applied only to Israel."
By way of example, he noted that the "Breaking the Silence" NGO - which has been accused of fabricating alleged testimonies by former IDF soldiers in order to demonize Israel - "gets the majority of its budget via church aid frameworks funded by European governments, and some of these church groups are infected by the new anti-Semitism."
Steinberg dismissed claims by opponents of the bill that it amounted to silencing free speech, noting that the actual objective is to simply inform the public and political officials. Indeed, under the bill NGOs will not have their activities curbed in any way - they will merely be obliged to reveal the sources of the funding if more than 50% comes from foreign states.
"The proposed legislation is a means of putting this issue on the agenda, not only in Israel, but more importantly in Europe," he said. "It sends a very strong signal to European political leaders regarding the need to stop giving massive amounts to fringe Israeli groups and messianists such as Breaking the Silence, where less than 10 activists have over $1 million, and the dangerous impact this has."
"If this signal fails and the NGO war continues, Israel's elected officials have the obligation to consider other responses."