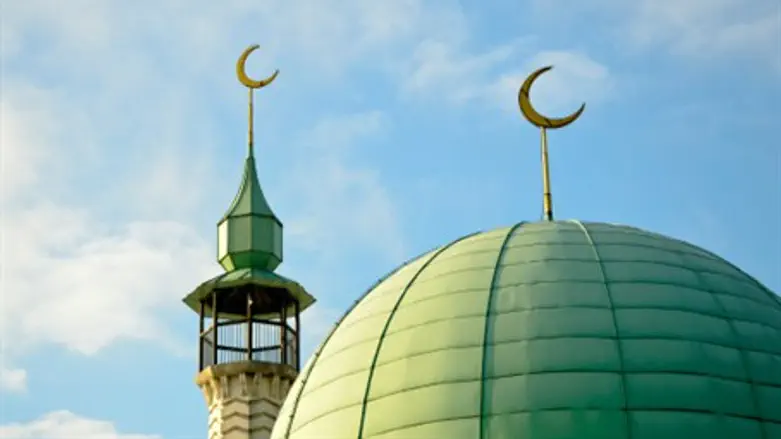 Mosque (illustration)
Thinkstock
Police in California are investigating an arson attack at a Central Valley mosque over the weekend as a possible hate crime, The Los Angeles Times reported Sunday.
Debris from what appeared to be a Molotov cocktail was found outside the Tracy Islamic Center on Saturday morning, said Det. Dave Konecny, who works in the San Joaquin County Sheriff's Department's Sacramento Valley Hi-Tech Crimes Task Force.
The mosque sustained minor fire damage on a wall and side door, estimated by law enforcement at about $1,000.
Weather stripping at the mosque's door prevented the flammable liquid from seeping inside, Basim Elkarra, executive director of the Sacramento Valley chapter of the Council on American-Islamic Relations, told The Los Angeles Times.
"The community is hurt," he said. "Parents are having to explain to their kids what happened. They're trying to remain hopeful in the current climate."
The newspaper noted that Muslims, both locally and nationwide, are nervous about an upswing in mosque incidents following terrorist attacks by Islamist jihadists in Paris and San Bernardino. Earlier this month, the Council on American-Islamic Relations issued a report saying more mosques have been the target of threats, vandalism and other incidents this year than in any previous year tracked by the group.
On December 11, a fire broke out at a mosque in the Coachella Valley, leading to one arrest. Days later, two mosques in Los Angeles County's South Bay were found vandalized -- cases that were investigated as hate crimes, according to The Los Angeles Times.
The December 2 attack at the Inland Regional Center in San Bernardino was carried out by Syed Farook and his wife Tashfeen Malik, who were killed in a gun battle with police following the shooting, which is being investigated as a terrorist attack.
The FBI has said that Farook and Malik were both radicalized "for quite some time" and had taken target practice at Los Angeles-area shooting ranges, and once "within days" of the massacre.
It is believed Farook had contact with people from at least two terrorist organizations overseas, and investigators have also said Malik had pledged allegiance to the Islamic State (ISIS) group in a Facebook posting.