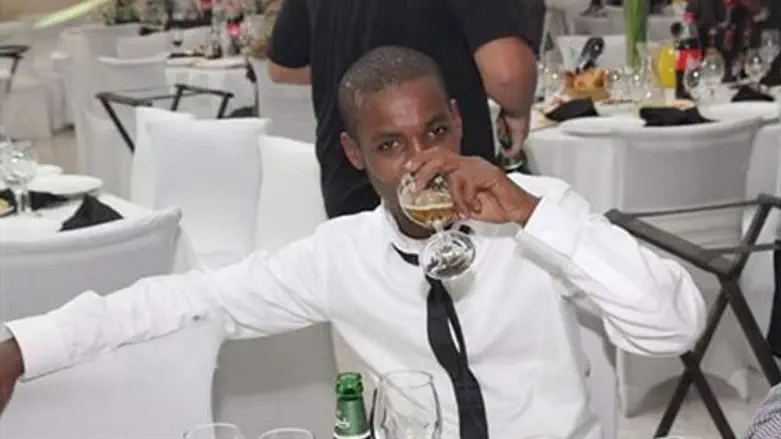 Avraham Mengistu
Courtesy of the family
The family of Avraham (Avera) Mengistu, a mentally ill Israeli who crossed into Gaza back in September 2014 and has been held by Hamas ever since, condemned the terrorist group for its hypocrisy on Saturday.
The criticism comes after Hamas issued harsh criticism against the Egyptian military, which was caught on camera gunning down a naked mentally ill Gazan man who waded into the sea and crossed into Egyptian territory earlier in the day.
"It is infuriating and shocking that the terrorist organization that is holding a mentally ill man, instead of returning him home as expected, dares to cry that 'this is an act worthy of condemnation and opposes the laws and humanitarian agreements,' and demands to put those responsible on trial," said Mengistu's family in a statement on Saturday night.
"This is the worst kind of hypocrisy."
Mengistu's family noted he has been held for a full year and three months by Hamas, after crossing into Gaza under the same circumstances of mental illness as the Gazan man who entered Egyptian territory on Saturday.
"Instead of returning Avera to his family as expected from any person or governmental body, Hamas holds him in their hands and is not prepared to give any information on his condition," added the family.
"Holding Avera Mengistu in Gaza also opposes the laws and humanitarian agreements, and those holding Avera also need to be put on trial."
"We call on the international community to get involved and force Hamas to hold the same minimal humane standards that it is demanding from others. We regret the tragic death of the Gazan, and join in the sorrow of his family."
The Gazan victim, 28-year-old Ishak Khalil Hassan, hails from the Gaza City neighborhood of Zeitoun. Al-Jazeera aired footage of Hassan walking naked into the sea on border, and crossing through a wire fence into Egyptian territory. Then, before he could reach the shore and despite the clear lack of any security risk posed by the nude man, the soldiers gunned him down still in the water.
"The shocking images aired by media outlets showing the death of the mentally disturbed young man by the Egyptian military mere meters from the border at Rafah testifies to the level of cruelty of those who carried it out and show that this was a cold-blooded execution," said the interior ministry of the Hamas terrorist organization in a statement.
"This is a reprehensible act that goes against all humanitarian laws and conventions," it added, demanding the Egyptian military investigate the incident. Hamas said Hassan's body remains in Egyptian hands.