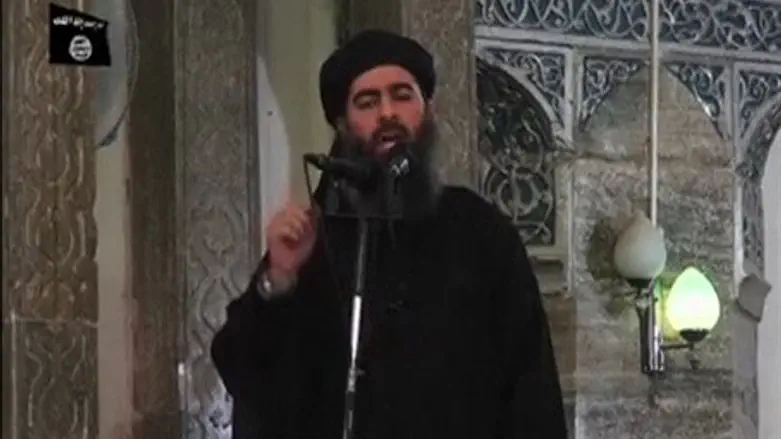 Abu Bakr al-Baghdadi
Reuters
Islamic State (ISIS) leader Abu Bakr al-Baghdadi issued a threat against Israel on Saturday in an audio recording, saying his jihadists are preparing to attack the Jewish state.
"If the Islamic coalition against ISIS were truly Islamic, it would declare that it was cutting ties with its Jewish and crusader masters and that its goal was to kill the Jews and liberate Palestine," al-Baghdadi said, indicating the Arab states fighting ISIS.
"The Jews thought we forgot Palestine and that they had distracted us from it. Not at all, Jews. We did not forget Palestine for a moment. With the help of Allah, we will not forget it."
He threatened that "the pioneers of the jihadist fighters will surround you on a day that you think is distant and we know is close. We are getting closer every day."
"You will never find comfort in Palestine, Jews. Palestine will not be your land or your home, but it will be a graveyard for you."
Reiterating an anti-Semitic teaching from the Muslim Hadith text saying that in the end of days stones and trees will help Muslims murder all Jews, al-Baghdadi said, "Allah assembled you in Palestine so that the Muslims kill you, so that you may hide behind stones and trees."
While ISIS has largely focused its efforts on conquering vast swathes of territory in Syria and Iraq, recently as its hold in the two states weakens it has focused outward, conducting attacks in Sinai and Paris among other locations.
Many Arabs in Israel have gone to join the group and several ISIS cells have been arrested in Israel before launching attacks.
A poll last month found that 18.2% of Arab Muslim citizens of Israel do not consider ISIS to be a radical terrorist organization, and that they are not ashamed of the brutal jihadist group. That figure jumped to 28.1% among Arab citizens who are supporters of the radical Islamic Movement in Israel.