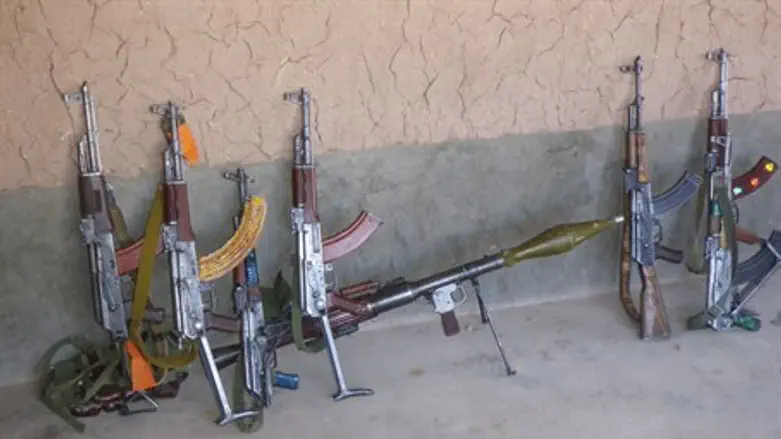 Kalashnikov assault rifles (illustration)
Thinkstock
The IDF launched overnight operations on Tuesday night, and found semi-automatic assault rifles in the Arab village of Yatta south of Hevron in Judea.
IDF combat soldiers of the 401 Brigade armored division conducted the mission, finding several Kalashnikov assault rifles, several hunting rifles, as well as rifle sights.
The Hevron region has long been recognized as a stronghold of Hamas support, meaning the weapons potentially were being stored for use in a terrorist attack.
Also overnight infantry combat soldiers of the Duchifat Battalion of the Kfir Brigade began mapping out the house of the terrorist Ismail Mussa Mahmoud Al-Hadidi, who last Tuesday stabbed and moderately wounded two Jews at adjacent construction sites in Modi'in.
The house was mapped out prior to demolition in Bayt Liqya, located just over the 1949 Armistice lines from Modi'in.
IDF soldiers, Border Police officers and police arrested 17 wanted terror suspects overnight in Judea and Samaria.
Of them 15 were suspected of involvement in violent breaches of public order in which they attacked civilians and security forces, while the other two were identified as activists of the Hamas terrorist organization.
The suspects were transferred to investigation.