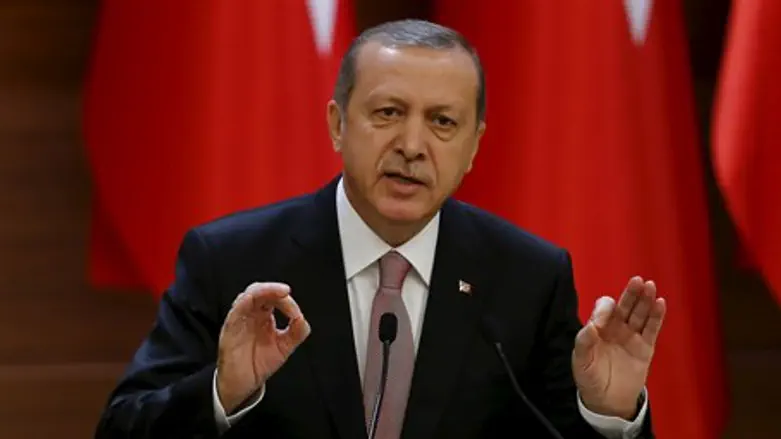 Turkish President Recep Tayyip Erdogan
Reuters
Senior Israeli security sources on Tuesday cast doubt on the seriousness of Turkey's intentions to seal a rapprochement agreement with Israel, and amend relations that were cut in 2010 after the infamous Mavi Marmara incident.
The sources told Walla that Turkey's declarations on being open to a deal should be taken with caution, particularly given that Ankara still is hosting Hamas terrorists, including those who were expelled in the 2011 Gilad Shalit deal that saw 1,027 terrorists go free.
Hamas terrorists being allowed to stay in Turkey include those who are involved in planning terror attacks against Israeli citizens inside the Jewish state, even though the senior Hamas terrorist Salah Al-Arouri has left Turkey for Qatar.
According to the sources, Turkey is only approaching Israel now due to its rupture in ties with Russia after shooting down one of Moscow's jets on the Syrian border on November 24. Russia was a key supplier of natural gas for Turkey, but it responded to the incident by sanctioning Ankara, and just days later talk of the rapprochement agreement including gas trade from Israel surfaced.
Despite their note of caution, the sources said a possible rapprochement could benefit Israel, if Turkey agreed to pressure Hamas and make it tone down its position to be more "moderate." The charter of the Hamas terrorist organization calls for the genocide of Jews.
The sources denied foreign reports that Israel agreed to ease the blockade on Gaza, which is meant to prevent the influx of weapons. That appraisal follows statements by Prime Minister Binyamin Netanyahu on Monday declaring that Israel would not agree to an ease on the naval blockade.
On the topic of Gaza, the sources emphasized the large influx of goods flowing from Israel to Gaza even despite the way Egypt has largely kept the Rafiah Crossing into Sinai closed, and noted that in the last year 30,000 trucks carrying goods entered Gaza from Israel.
The talk of rapprochement with Turkey comes after ties broke down following the 2010 Mavi Marmara incident, when elite IDF soldiers were forced to board the Turkish Mavi Marmara ship, which ignored repeated warnings to stop its attempt to breach the maritime blockade on Gaza - a blockade that is legal under international law.
The soldiers were brutally attacked by IHH Islamist extremists on board wielding knives and metal bars, and had no choice but to open fire, killing ten of the IHH members on board. After an investigation, Israeli authorities discovered the vessel to be carrying no humanitarian aid, despite the flotilla's claims that it was on a "humanitarian" mission.