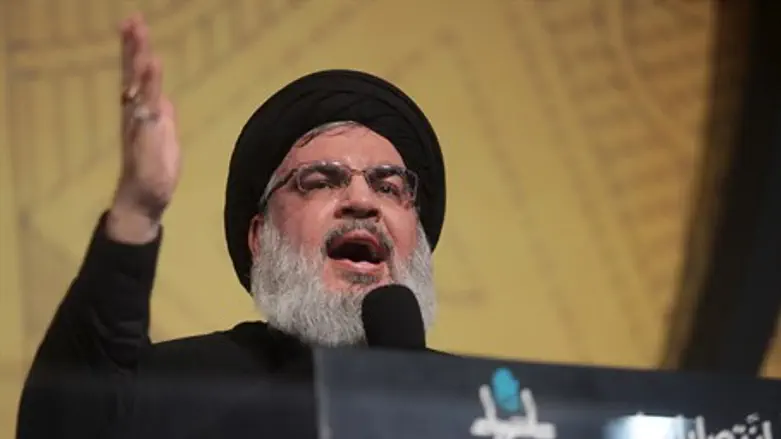 Hezbollah leader Hassan Nasrallah
Reuters
Hezbollah terrorist leader Hassan Nasrallah made a televised speech on Monday night, following the assassination of senior Hezbollah terror commander Samir Kuntar in an apparent Israeli airstrike in Damascus on Saturday night.
"There is no doubt that the Israeli enemy conducted this assassination, this is not an incident that needs to be investigated who conducted it," said Nasrallah on local Lebanese TV.
"Israel sent direct missiles into the residential building in which the brother Samir Kuntar and others was. The building was harmed and Kuntar died in addition to other (Hezbollah) activists."
"The Israeli planes did not enter Syrian skies, and were over the Golan (Heights)," he added, noting on the precise long-range nature of the strike.
Nasrallah also said that Kuntar's death would turn him into a "symbol" for terrorists in the region, and vowed a "response" against Israel.
"We reserve the right to respond to this assassination at the time and place of our choosing. We in Hezbollah will exercise that right," said the Iran-backed terrorist.
The Hezbollah leader admitted that Kuntar "worked to arouse popular resistance in the Golan against the Israeli enemy, and throughout the path what motivated him was the suffering of the Palestinian people."
The statement is significant, given that a senior security expert revealed to Arutz Sheva earlier on Monday that Israel targeted Kuntar because Iran was using him to instigate terror within Israel on the Golan Heights, and to destabilize Jordan so as to increase the terror in Judea and Samaria across the Jordan River.
Kuntar, who was buried on Monday, is notorious for the 1979 murder of three Israelis, including 31-year-old Danny Haran, and Haran's four-year-old daughter who he beat to death with his rifle butt. The girl's two-year-old sister was accidentally smothered to death by their terrified mother as she stifled her cries to prevent them from being discovered.
He was released by Israel after serving nearly 30 years of a multiple-life sentence in a 2008 prisoner swap with Hezbollah, and was immediately feted as a hero by the Shia Islamist terror group and appointed one of its commanders.
According to reports, the Iran-proxy Hezbollah terrorist was planning a major attack on the Golan Heights before his assassination.