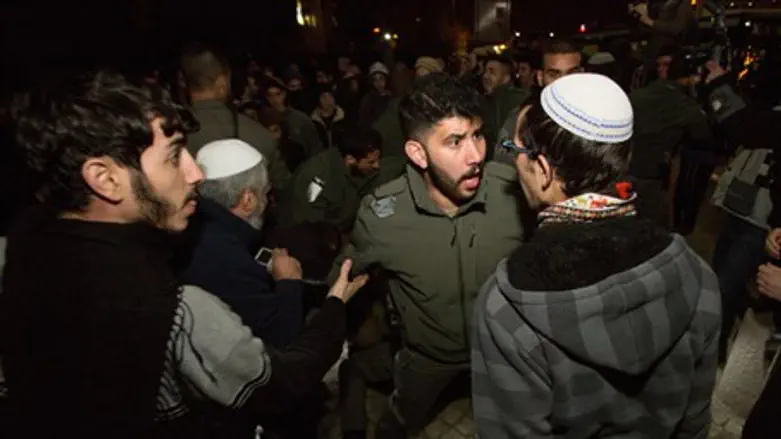 Border Police scuffle with protestors, journalists at Duma protest
Yonatan Sindel/Flash90
Protesters at last night's right-wing rally against the Shin Bet's conduct of the investigation into the Duma arson found a surprising ally in MK Ksenia Svetlova (Zionist Union).
Svetlova, who heads the Knesset Caucus for Freedom of Expression, harshly condemned the harassment of several journalists who reported on last night's mass protest in Jerusalem over the Israel Security Agency (ISA)'s treatment of suspects in the Duma arson case.
Thousands stopped traffic in the capital over the case; during the protest, police scuffled with demonstrators - and attacked several journalists at the scene, including Arutz Sheva's Eliran Aharon, NRG/Makor Rishon photographer Miri Tzahi, TPS news agency's Hillel Maeir, and Flash90's Yonatan Sindel. 
"Every week we have witnessed acts of aggression against the freedom of speech and the press," Svetlova began. Recently, she said, journalists "have been threatened with fines and press censorship in order [for the government to] maintain control over the media, demonstrations were stopped over the gas deal, and yesterday, the police attacked a photojournalist until she needed medical treatment." 
"Maybe it's been said too much, but there is no doubt we are seeing the dark side of the authorities, and none of us want to provoke them."
"The police commissioner and head of the Department of Police Investigations must understand these acts chew away at democracy - all of democracy," she warned. 
"Clearly, in a refined society such as Israel's, there must be a zero-tolerance policy against police violence - specifically police violence against journalists. Police violence is evil, unacceptable, and must be eradicated."