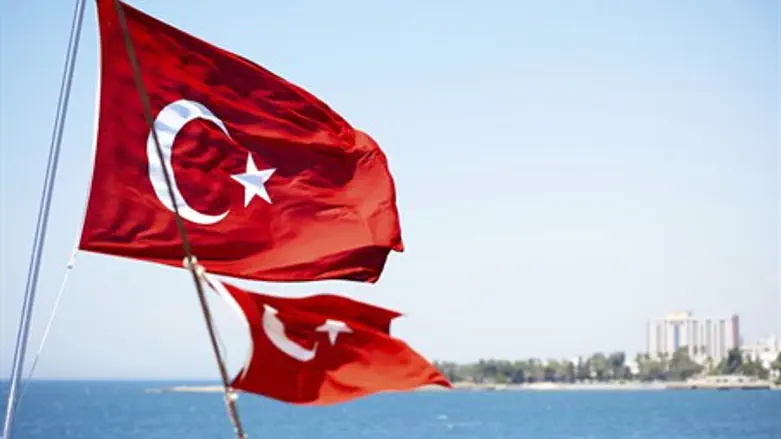 Turkish flag
Thinkstock
An official from Turkey's ruling Justice and Development (AK) Party said Sunday that no deal had yet been signed to normalize relations with Israel.
"There has been no definitive deal signed yet, but a draft is being worked on," AKP Deputy Chairman Omer Celik told reporters in Ankara, according to the Turkish Anadolu news agency.
In recent days,  it was reported in Israel that Israel and Turkey, in secret talks in Switzerland, had reached "understandings" to normalize ties that were downgraded following the 2010 Mavi Marmara incident.
According to those reported understandings, the deal would have Israel pay compensation to the families of the radical activists on board the flotilla who attacked IDF soldiers with lethal force, and would also launch talks on natural gas exports to Turkey. Turkey, in return, will not allow terrorist activity on its soil, and will not allow Hamas leader Salah Al-Arouri to enter the country.
An anonymous Turkish official said on Friday that an agreement was "close" but had not been reached yet.
In his statement to reporters on Sunday, Celik stressed the "friendly" relations between the Turkish and Israeli people.
"Beyond all question, the state of Israel and its people are friends of Turkey," he said, according to Anadolu.
"Our criticisms until now are aimed at some actions of the Israeli government that are extreme and which we regard as illegitimate," added Celik.
Ties between Israel and Turkey broke down after the 2010 Mavi Marmara incident, when elite IDF soldiers were forced to board the Turkish Mavi Marmara ship, which ignored repeated warnings to stop its attempt to breach the maritime blockade on Gaza - a blockade that is legal under international law, and is meant to stop the influx of weapons to terrorist groups.
The soldiers were brutally attacked by IHH Islamist extremists on board wielding knives and metal bars, and had no choice but to open fire, killing ten of the IHH members on board. After an investigation, Israeli authorities discovered the vessel to be carrying no humanitarian aid, despite the flotilla's claims that it was on a "humanitarian" mission.
When Israel refused Turkey's demand that it apologize for the incident and compensate the victims' families, Turkey cut ties with the Jewish state. Prime Minister Binyamin Netanyahu later apologized to Turkish President Recep Tayyip Erdogan over the Marmara incident, at the urging of the United States.
Erdogan has a long history of verbally attacking Israel, and has continued his attacks even after Netanyahu's apology.
Erdogan vocally supports the current wave of Arab terror in the Jewish state and on Saturday, met with Hamas leader Khaled Mashaal despite reports of the rapprochement with Israel.