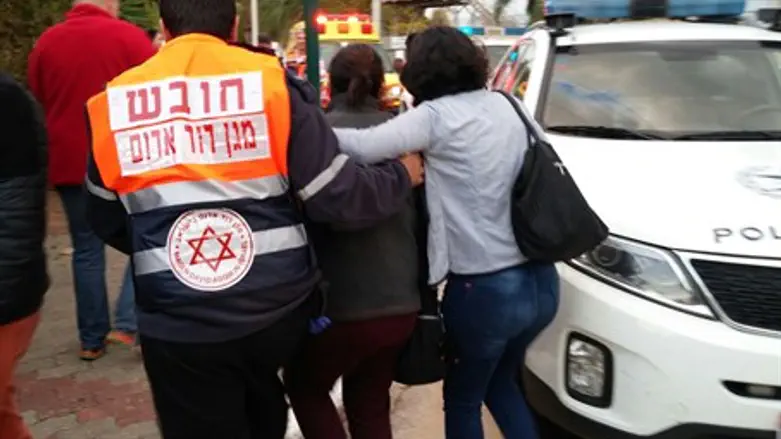 Scene of Ra'anana stabbing
Magen David Adom
"I did not feel heroic," said Dikla Dvir, the woman who struggled with a terrorist stabber who entered her home in Ra'anana on Saturday afternoon. "I was in such fear after it happened."
After stabbing and injuring two people on Anielewicz Street toward the end of Shabbat, the terrorist ran into a residential building on nearby Ramkhal Street. There he encountered Dvir, who managed to push him away.
"It was a routine afternoon," Dvir described to Yedioth Ahronoth on Sunday. "I was standing, cooking, and while I cooked someone opened the door, entered and stood beside me. I turned around, I thought it was a thief." 
"I asked him what was up and then I saw he had a knife in his hand. He swung the knife and stabbed me in the chest." 
Though the wound was only superficial, Dvir began screaming. "I pushed him with both hands, locked the door. My husband came in with a ladder in his hand, he (the terrorist) wanted to hurt him and my youngest son shouted so loudly so [the terrorist] would leave."
"He didn't really flee that far," Dvir added. "He was walking around in the garden, he was terrified, he didn't know what to do. But once we locked the doors, we immediately called the police and reported his exact location." 
"Within seconds they arrived and caught him here next to the gate."