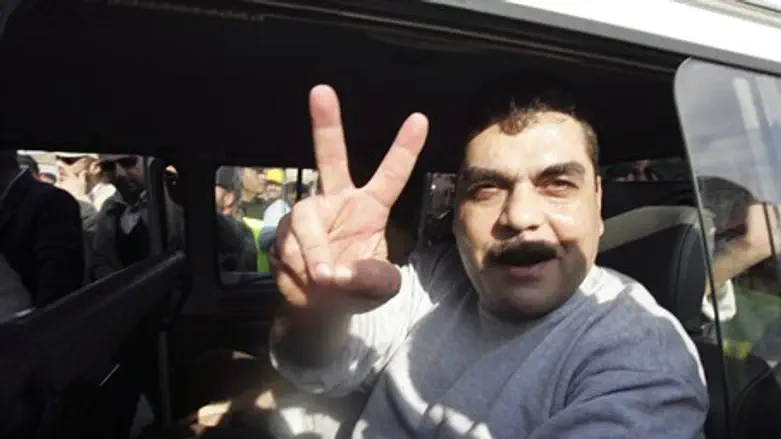 Samir Kuntar during his 2008 release
Reuters
Arab media reports on Saturday night claimed that Israeli rocket fire destroyed a building in the Jaramana district of Damascus.
According to Russia Today, Hezbollah-linked terrorist Samir Kuntar was the target of the strike and was reportedly killed.
Images from the scene showed a collapsed multi-story residential building, with lots of rubble on the ground. Vehicles parked nearby appear to have been completely destroyed, the Russian news agency reported.
According to Reuters, a number of rockets indeed hit a building in the Damascus district of Jaramana causing several casualties, but Syria's state media blamed "terrorist groups" - the term used by President Bashar Al-Assad regime to describe rebels fighting against him - for the attack.
However, government loyalists quoted by Reuters on social media said the explosions were an Israeli strike believed to have killed Kuntar, who murdered two members of the Haran family and a policeman in the northern Israeli city of Nahariya in 1979, crushing the four-year-old's head with the butt of his rifle after murdering her father in front of her. Her two-year-old sister died when the mother, hiding in a crawl space, accidentally smothered her while trying to prevent her cries from being heard. He was released in 2008 as part of a prisoner swap with Hezbollah.
Some Syrian government loyalists said he was in the building at the time of the attack but his fate was unclear, according to the news agency, but it was not immediately possible to confirm the reports.
Hezbollah, however, confirmed Kuntar's death in a statement, saying it occurred "when the Zionist enemy planes bombed the building where he lived in Jaramana."
Watch: Footage from site of airstrike which killed Samir Kuntar
This marks the second time that Kuntar was reportedly the target of an Israeli airstrike. In late July, the British-based Syrian Observatory for Human Rights claimed that the Israel Air Force struck a vehicle in which Kuntar was riding.
But Kuntar later appeared alive and well in an interview which aired on September 9 on Hezbollah's Al-Manar TV and translated by the Middle East Media Research Institute (MEMRI).
In September the United States placed Kuntar on its terror blacklist, saying he had "played an operational role, with the assistance of Iran and Syria, in building up Hezbollah's terrorist infrastructure in the Golan Heights."