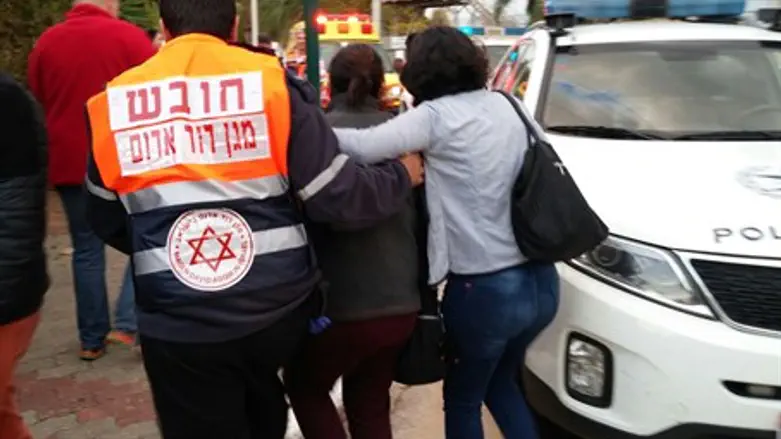 Site of Ra'anana stabbing
Magen David Adom
An Arab terrorist stabbed three civilians Saturday afternoon along Mordechai Anielewicz street in Ra'anana, before fleeing the scene.
Police chased after the terrorist, eventually cornering and arresting him in a private yard nearby.
The casualties were evacuated by Magen David Adom paramedics to Meir Hospital in nearby Kfar Saba.
One, a 40-year-old man, is in serious condition, while the other two suffered from light wounds. One of the latter victims is described as woman, though reports differ on her age, describing her as between 40 and 60 years old.
MDA first responders described the scene by saying, "There was a big commotion. A man about 40 years old was lying, semi-conscious, in the street, after being stabbed in the upper body. We gave him emergency treatment, including medication, anesthesia, respiration and stopping the bleeding, and we evacuated him to the hospital in serious condition. In addition, we treated and evacuated a woman about 40 years old who was nearby. She was fully conscious and walking around with a light wound to her hand.
Shortly after the attack, security forces initiated a manhunt after a suspected accomplice, but shortly afterward determined the terrorist had acted alone.
The attacker has been identified as a 20-year-old Palestinian from Samaria.
Ra'anana mayor Ze'ev Bilski came to the site and praised the security forces and civilians for their conduct. "Police immediately took control of the situation. Police forces are spread around the city and are taking every possibility into account. I am happy that the reaction was quick and that the terrorist did not manage to do more harm. We call on all residents to remain in their homes. We will do all we can to ensure their safety."