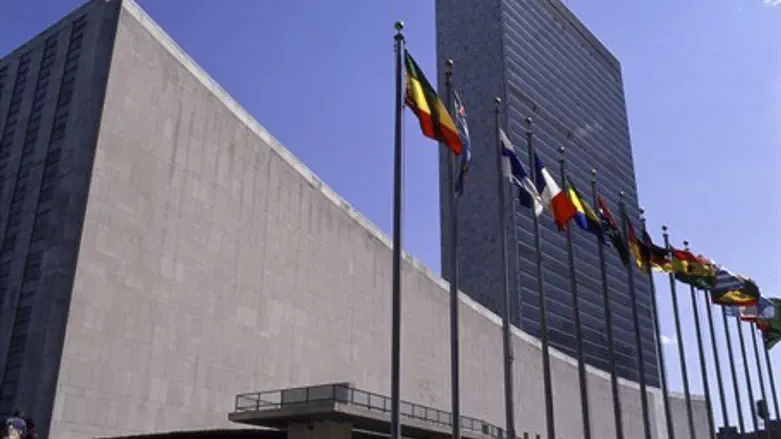 United Nations Headquarters
Thinkstock
The United Nations headquarters in New York on Thursday recognized the Jewish holiday of Yom Kippur as an official UN holiday.
As part of the decision, from now on no official meetings will take place at the UN on Yom Kippur and employees can chose to take the day off.
The decisive victory was achieved thanks to the cooperation between Israel's Permanent Representative to the UN, Ambassador Danny Danon, who led the efforts on behalf of the Israeli Mission, and the United States Permanent Representative of the UN, Ambassador Samantha Power.
"Yom Kippur is the holiest day of the year for the Jewish People, and the UN should have recognized this holiday many years ago. Today we finally have an official place for the Jewish religion in the world's parliament", Danon said on Thursday.
The partnership with the American prevented the anti-Israel majority at the UN from blocking the resolution.
"The American-Israeli partnership at the UN stands for good versus bad and right versus wrong. The value of justice, anchored in Jewish tradition and thought, will finally find its place in the family of nations, and be a part of the UN's history", Danon added.
Until today, the UN recognized 10 official holidays, including Christmas and Eid Al Fitr, but no Jewish holidays. Thursday's decision establishes Yom Kippur as an official UN holiday, and this international recognition of the holiday's importance will allow Jewish UN workers to observe the holiday without the need to take a day off.
Last year, ambassadors to the United Nations from 32 countries asked the UN to recognize Yom Kippur as an official holiday, noting that the Jewish Day of Atonement is an annual day with a "universal" message.
Yom Kippur is observed on the tenth day of the month of Tishrei, which falls each year in September or October.
The day, dedicated to fasting and prayer, marks the end of the 10 Days of Awe which start with the Jewish new year on Rosh Hashanah. The holiday is observed by many Jews, even non-practicing ones.