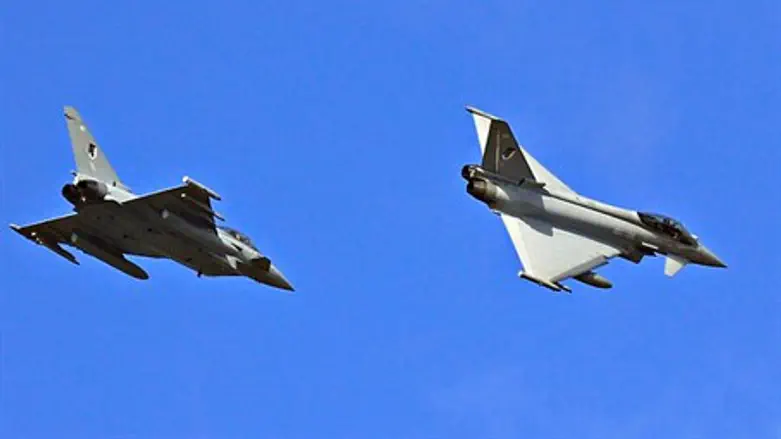 Typhoon aircraft
Flash 90
The United States, Russia, France and Britain are deploying an arsenal of weapons in the Syrian conflict, although some experts question whether they are best suited to the fight against Islamic State (ISIS) jihadists.
ISIS targets are being pummelled from the air and the sea, but the effectiveness of the operation against relatively lightly-armed fighters, who have resorted to hiding in tunnels and moving around rapidly, is open to question.
Here is a rundown of the key weapons being used, principally against ISIS targets. Syrian President Bashar al-Assad's ally Russia meanwhile has turned its military might on other rebel groups, to Washington's fury, but is also bombing ISIS.
RUSSIA'S KILO-CLASS SUBMARINE AND KALIBR CRUISE MISSILES
On October 7, Russia fired 26 cruise missiles at Syrian rebels from a cruiser in the Caspian Sea, 1,500 kilometers (930 miles) from the target.
Western military experts identified them as Kalibr missiles, the equivalent of the Americans' Tomahawk missiles.
Russia's use of such missiles makes it a member of an elite group of nations including the US and Britain to deploy them. In theory, they also give the Russian navy wider scope to attack Europe.
On December 9, Russia fired this type of missile again from a new-generation Kilo-class submarine, the Rostov-on-Don, deployed in the Mediterranean. The submarine, which entered service in 2014, offers both a powerful weapons capability and a high degree of stealth.
"The new version of the Kilo has very high military capabilities - they represent a credible threat," a French military source said.
But experts remain skeptical about the effectiveness of using such massive weapons against Syrian rebel groups, including ISIS.
"It makes no sense at all from a military point of view. But it sends a message to the West about (Russia's) capacity," said Alexander Golts, an independent Russian analyst.
The Russian air force has deployed its newer Sukhoi Su-34 fighter-bombers, which have an impressive range of 4,000 kilometers (2,500 miles), but the lion's share of the bombing is still being done by the ageing Su-24 and Su-25 attack aircraft.
"We already had them in Afghanistan (in the 1980s). The army says they have a new targeting system, if you believe that. These planes drop bombs that are not guided," Golts said.
RAPTOR, PREDATOR AND US REAPERS
The F-22 Raptor stealth fighter-bomber, at the cutting edge of the US forces' capabilities, made its operational debut in Syria in September 2014.
With a $360-million price tag, the plane is considered the most advanced jet in the world because of its ability to evade detection by radar. It can fly at speeds beyond Mach 2 and can release laser-guided bombs 25 kilometers (15 miles) from its target.
The US Predator and Reaper drones are an increasingly essential element of American aerial operations, collecting intelligence and helping bomber pilots to select their targets. The drones themselves can also fire Hellfire missiles.
TOW ANTI-TANK MISSILES
The CIA and its allies in the region, including Saudi Arabia, have supplied Syrian rebels with anti-tank TOW (Tube-launched, Optically tracked, Wire-guided) missiles which have had a devastating effect on the tanks of Assad's regime.
These US-made missiles, with a range of 3,500 meters, were used by a rebel group against a Russian helicopter that had been sent to pick up a Russian pilot after his plane was shot down by Turkish forces in late November, according to specialist sites.
BRITAIN'S TYPHOONS
Since Britain belatedly joined the air war against Islamic State rebels in Syria last month, the RAF has been using Eurofighter Typhoons and far older Tornado jets, which have been in service for 35 years.
Britain is currently without an aircraft carrier, so its jets are operating from Cyprus.
FRANCE'S SCALP MISSILES AND RAFALES
The French army fired its first SCALP cruise missiles against ISIS on Tuesday. The Rafale fighter-bomber - which is finally finding a market abroad after a slow start - is also playing a key role in French operations.
France's navy is eagerly awaiting delivery of its first MdCN cruise missiles which are expected to enter service in 2016. At 1,000 kilometers they offer three times the range of the SCALP.
France's Charles de Gaulle aircraft carrier is already in the Gulf and will be joined in January by the first of a new generation of frigates.
AFP contributed to this report.