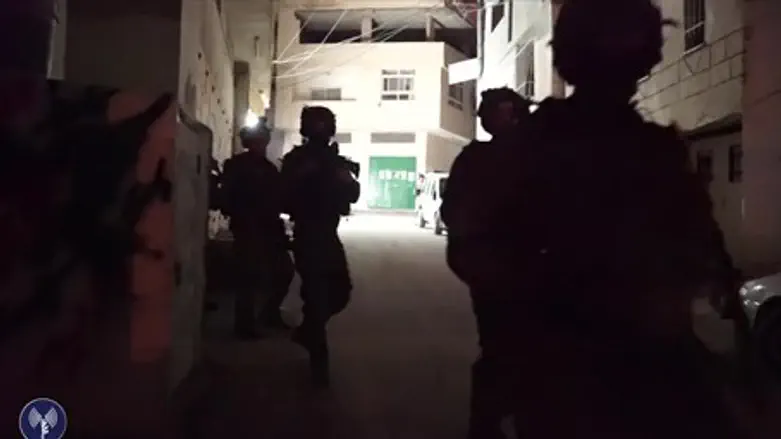 IDF activity in Qalandia
Photo: IDF spokesperson
The Binyamin Brigade held overnight Thursday an operation in Qalandia, a Palestinian town north of Jerusalem in Samaria. 
IDF forces operated in cooperation with the Police and the Civil Administration to arrest wanted persons and locate illegal weapons.
During said activities, in which the Duvdevan elite unit, Shaked, Nahal and Kedem battalions participated, the soldiers detained two suspected terrorists and discovered fighting gear.
The gear found included uniforms, knives, Carlo rifles, bullets and weapon grips, that were hidden in one of the shops. The weapons were confiscated and the owner was arrested.
The operation was accompanied by violent riots in which hundreds of Palestinians, in several locations, threw rocks, Molotov cocktails and other objects from roofs at the security forces, who responded with appropriate riot control measures.
Several vehicles were damaged. There were no casualties among the security forces, and the IDF troops arrested 17 rioters. 
An IDF spokesman said Thursday morning, "The IDF will continue to act decisively against terror centers in Judea and Samaria, wherever and whenever required."