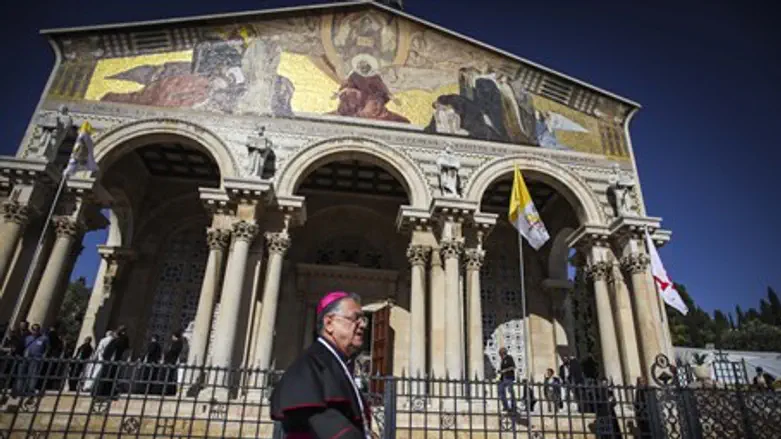 Fouad Twal
Uri Lenz/FLASH90
Amid a nearly three-month long wave of Arab terror, the head of the Roman Catholic Church in the Holy Land ironically called Wednesday on both Israel and the Palestinians to put an end to violence. 
Fouad Twal, the Latin patriarch of Jerusalem, said the situation necessitated "moderate celebrations" as Bethlehem, the city neighboring
Jerusalem where biblical tradition says Jesus Christ was born, prepared for its Christmas events.
"We are tired of this conflict as we see the Holy Land sullied with blood," the Jordanian patriarch said, in an apparent huff over the large number of Christian pilgrims canceling plans to join the Bethlehem festivities because of the violence. 
"Each of the two peoples of the Holy Land, Israelis and Palestinians, have the right to dignity, to an independent state and sustainable security."
He also denounced violence in other parts of the world in the Christmas message, saying "a deadly ideology based on religious fanaticism and obstinacy is spreading terror and barbarism amidst innocent people."
"Yesterday, it was Lebanon, France, Russia, the United States; but war has been raging for years in Iraq and Syria," he said.
He said "we invite every parish to switch off Christmas tree lights for five minutes in solidarity with all victims of violence and terrorism. Similarly, our Christmas mass will be offered for the victims and their families."
Twal is no stranger to controversial statements, having urged last year, along with two other leading Christian clerics in Israel, for more European governments to recognize "Palestine" as a state with eastern Jerusalem as its capital.
The move was perceived as somewhat strange, given the fact that Muslim persecution has nearly emptied Bethlehem of its once-sizable Christian population.
The wave of Arab terror in Israel since October 1 has so far taken the lives of 22 Israelis and wounded over 250 more. 
AFP contributed to this report.