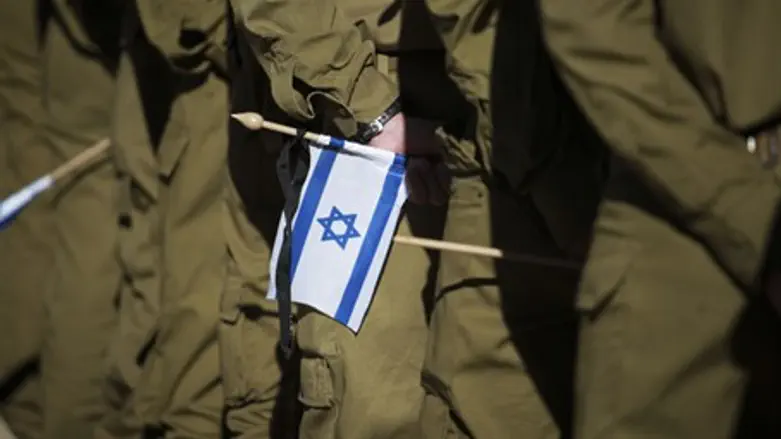 (Illustration)
Flash 90
Yoni Zarka, a 32-year-old new immigrant from France who made aliyah just this February, is making a stir this week as he protests outside an IDF base, pleading to have regulations flexed to allow him to enlist in a combat unit and "defend the people of Israel."
Zarka wrote to the IDF as soon as he came to Israel, and since then has tried again and again to be enlisted, but the answer remains the same - the oldest age to volunteer to enlist is 27, and as a 32-year-old, he is not being allowed to fulfill his dream of serving his people.
The fervently Zionist new immigrant has been camping out in a sleeping bag for the past three days in front of Tel Hashomer's Bakum, the massive sorting base near Ramat Gan, in a request to be let in as a soldier even on a volunteer basis with no pay.
Zarka is braving the rain and sleeping out accompanied only by an Israeli flag, and his "Ironman" triathalon medals from the grueling 4 kilometer swim, 80 kilometer bicycle ride and 42 kilometers of running - he did it twice, with pictures from the events showing him posing in celebration afterwards with an Israeli flag.
And yet the army has ruled out his enlistment due to his age.
"All the time I tell (the IDF): 'I want to enlist in the army, I'm a Zionist, I'm a Jew, I want to defend the people of Israel. It's really important for me," Zarka said, promising, "I will succeed."
Speaking to Walla at his impromptu abode on the sidewalk outside the base, the unmarried Zarka explained his desire to enlist, and showed the cardboard sign he is displaying as he stands on his patch of ground or sits on the chair he brought.
"Hello everyone, I am Yoni, 32, a new oleh from France," reads the sign. "Israel is in danger, all that I ask is to serve the state, to enlist in in a combat unit in the army. They won't let me due to my age, help me. I will sleep here until someone agrees to enlist me to the army. If I receive a negative answer I will continue to sleep here, I won't give up."
"I don't want money, I want to defend"
After arriving in Israel in February Zarka wrote to the IDF asking to enlist, and "for three months I called them every day and I sent letters. They told me that they are writing down my request, but in the end they told me 'no, you are too old to enlist in the IDF.'"
"In France twice I took part in the 'Ironman' competition, including swimming, bicycling riding and running. When I arrived in Israel I signed up for 'Tzedek Lochamim,' an association of soldiers preparing for the commando units - Sayeret Matkal, the Naval Commandos, etc. I took part in it for a month-and-a-half," he said.
He was part of the mere 10% of participants who actually finished the massive trek in the preparatory program - and yet he is being refused for his age. "How can the army say that I'm too old? I don't understand," he said.
"I don't need the money, I don't want payment from the army. Even though I'm a lone soldier, I'm ready to do it as a volunteer. I have money and I don't care, I want to defend the state."
Zarka noted on the warm reception he has gotten from Israelis, even as he gets a cold shoulder from the army.
"Many Israelis contacted me and brought food, blankets and clothes. I'm in shock. It's surprising and fun, lots of respect to this state that has such unity."
He concluded by stating: "I call on anyone who can help, I want to enlist in the army. I hope that it will help and will exert pressure, because I'm not ready to give up."