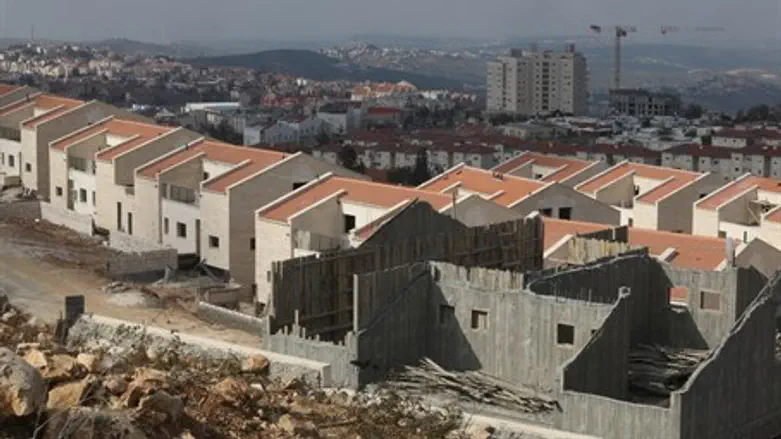 Construction in Ariel, Samaria
Flash 90
Peace Now issued a faulty report recently claiming that the Council for Judea and Samaria is not operating properly in terms of their finances and other protocols - but the report badly backfired for the far-left group.
Shiloh Adler, Director of the Council of Judea and Samaria spoke to Arutz Sheva about the report and about the work that Peace Now, also known by their Hebrew name Shalom Achshav, has been doing.
"It appears that the NGO Peace Now is not doing well," said Adler. "They seem to be failing at their mission and are trying to find ways to justify themselves and justify their salaries," he said.  
Adler explained that the extremist left-wing NGO has been a source of great help to the Council and managed to obtain legal sanction for all of the new building projects in Judea and Samaria, which may have otherwise been deemed as illegal. "Peace Now have over the past few months been trying to sue the council as well as any new building project or new community established in Judea and Samaria in the High Court of Justice. Each time they have been suing a new community, the community gets an okay and a legal precedent from the High Court, and Peace Now receives a drubbing. So, we in essence should thank them for their efforts, as they have actually been strengthening the communities in  Judea and Samaria as a whole.  
Peace Now's report, didn't come in a vacuum. In light of the proposed bill to make NGOs tat are foreign agents illegal, Peace Now is trying to uncover NGOs on the right that are also on the payroll of foreign government. "Unfortunately for them, We aren't one," said Adler.
The Council as well as each of the local council of the towns in Judea and Samaira are under full supervision and are openly transparent bodies that comply with the rules that apply to NGOs in Israel that necessitate every NGO to give a full report of their income and donations, both local and foreign, to the government. "We have nothing to hide. We have no foreign government funding, or inappropriate donations. The High Court of Justice has reviewed our finances, and we audited on a yearly basis in accordance with the law," said Adler.
With regards to the report itself, Adler said he felt no need to respond to it. "I don't know how much we need to respond to the report. It really isn't really relevant for the left-wing and certainly not anymore for the right-wing. So I prefer not to respond to it specifically. I will say that there are a lot of mistakes in it, likely even outright lies in the critique that Peace Now did of the council."
Adler illustrated this with the one example from the report. One which was based upon a Ynet article, which Adler also believed to be suspect. The Peace Now report claimed that the council in 2005 received eight million dollars from the One Israel Fund. "That simply never happened," said Adler.  
"We are an NGO. We submit a financial report each year, we report all of our income, and we are audited every year, and there is nothing that we are doing that is shady at all."
"Peace Now should submit a report on themselves like the one they did about us, that outlines where they receive their funding from and who supports them to damage Israel," Adler concluded.
Peace Now was not among the list of reported NGOs that appeared in the recent Foreign Agents report published by Im Tirzu.