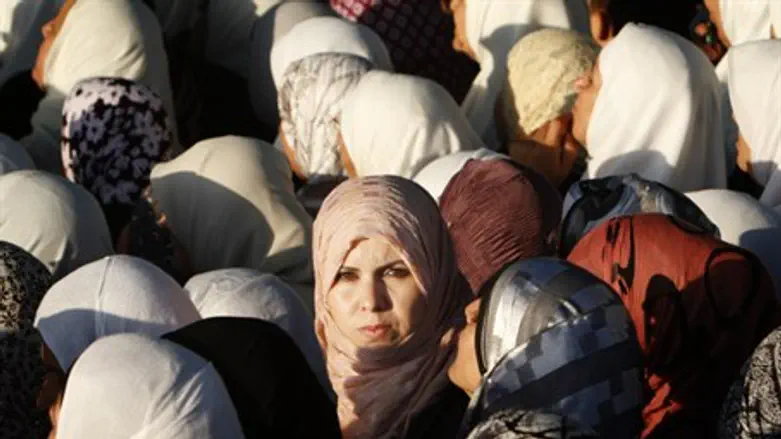 Muslim women (illustration)
Flash 90
A middle school teacher in the state of Georgia has caused an uproar after asking a Muslim student if she was carrying a bomb in her backpack, reports The Associated Press (AP).
The father of the student, Abdirizak Aden, said the teacher at Shiloh Middle School in Gwinnett County, Georgia, stopped his 13-year-old daughter, who wears a hijab, and asked if she had a bomb.
He told the Atlanta Journal-Constitution newspaper that his daughter was extremely upset by the comment and he went to the school to see what had happened.
"I was upset," said Aden, according to AP. "I was going to take my daughter out (of that school)."
"We are from Africa, we are Muslims, we live in America," he continued. "I didn't teach my children to hate people or to think they are better than other people."
Sloan Roach, a Gwinnett County Public Schools spokeswoman, later said that the school's principal has apologized to the family.
"The remark was not appropriate, but based on their conversation and investigation," school officials don't believe it was made with "ill intent," Roach said, according to AP.
She said the comment came as the teacher was urging students to put away their backpacks.
The incident is the second one involving a Muslim student to have made headlines in recent months.
In the first incident, a 14-year-old Muslim boy was arrested after the homemade clock he took to his Dallas-area school was mistaken for a possible bomb.
The teen, Ahmed Mohamed, later visited the White House at the invitation of President Barack Obama, who invited him after word of his suspension got out on social media.
In October it was reported that Ahmed and his family were moving to Qatar, and that he had gotten his clock back from the police just ahead of the flight. His lawyers have since filed a lawsuit for $15 million over the incident.