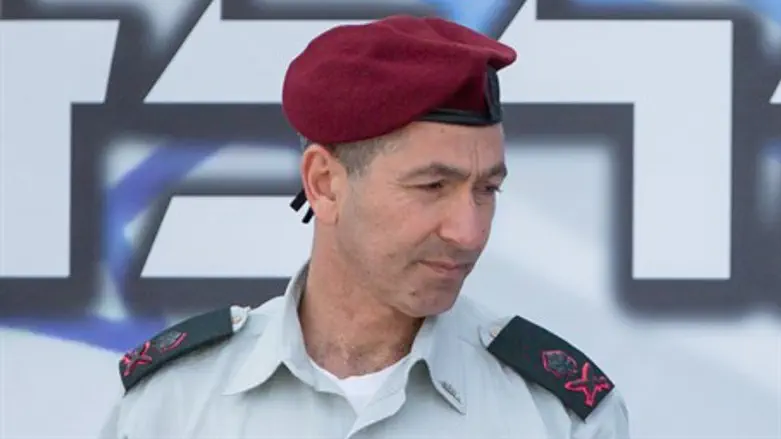 Roni Numa
Miriam Alster/Flash 90
A short and unusual exchange of words took place Friday morning between IDF Central Commander Roni Numa and activist Baruch Marzel of Hevron, who has been holding a protest outside the Cave of Machpelah ever since a stabbing attack took place there Monday night.
Marzel, who nearly became an MK for Otzma Yehudit in the last elections, called out to Numa as he passed by the site of his counter-terror protest.
"They may call you Numa but you need to wake up, Jews are being slaughtered in the land of Israel," quipped Marzel, playing off how "numa" can also mean "go to sleep."
"You hit me below the belt," responded a stung Numa.
"Ganedi Kofman they stabbed above the belt in his heart, and he's lying in critical condition, and you're doing nothing to deal with the problem," responded Marzel, referring to Monday's stabbing victim.
Kofman remains in life-threatening danger at the emergency care unit of Shaare Tzedek Hospital in Jerusalem, where he is on artificial respiration and has been put to sleep; on Tuesday his wife asked the public to pray for Genadi Chaim ben Raayah-Rachel.
Numa answered by saying, "we are trying hard to take action."
"I'll give you a tip on what to do, everything that you think and that the brigade commander thinks - do the exact opposite," said Marzel. "You're speaking Yiddish to the Hevron Arabs, but they only understand Arabic."
At that point, the leading activist turned to Hevron Brigade Commander Ben Ezra who was standing nearby, and asked him, "isn't it right that I warned you a year ago that the direction of your activities will cause an explosion in Hevron?"
"You're good guys but Arabs aren't your field," concluded Marzel wryly. "The situation will get worse if you continue to pour gasoline instead of water on the fire."