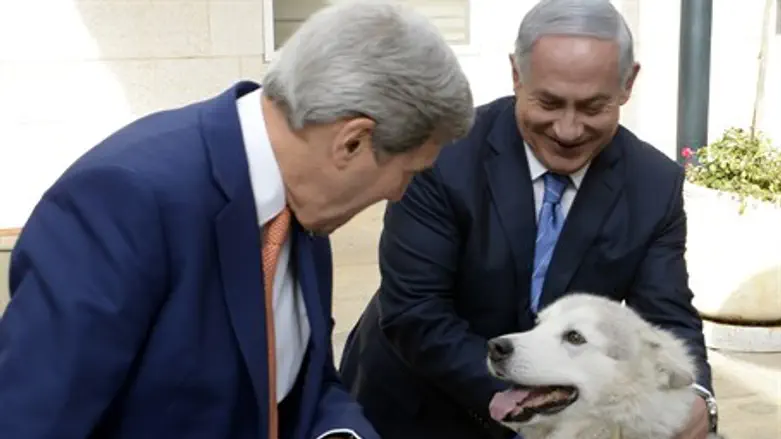 Binyamin Netanyahu introduces John Kerry to his dog Kaiya
Matty Stern/U.S. Embassy Tel Aviv/Flash 90
The cat's out of the bag: Prime Minister Binyamin Netanyahu's adopted dog Kaiya may have bit MK Sharren Haskel and Or Alon, the husband of Deputy Foreign Minister Tzipi Hotovely, at a Likud Hanukkah party on Wednesday - but her first victim was Netanyahu himself.
Both Haskel and Alon required medical attention after being bitten by the dog, who was adopted by the Netanyahus in July after the Prime Minister's son Avner pleaded with his parents to save the life of the "gentle" ten-year-old dog who was about to be put down. 
But on Friday, Yedioth Aharonoth revealed a long-kept secret about the canine companion - she bit Netanyahu back in July, just several days after being adopted.
One morning not long after joining the Netanyahu family in the Prime Minister's Residence, the dog sunk her teeth into Netanyahu's hand. A veterinarian of the Health Department in Jerusalem was brought to the residence by members of the Israeli Security Agency's (ISA) elite VIP security unit.
According to sources involved in the affair, Netanyahu screamed in pain, and in consultation with his doctors it was decided not to take any chances and to administer a rabies vaccine.
While the sources claim Kaiya was put in isolation for a week following the incident as is custom in such cases, the Prime Minister's Office claims that the dog was not isolated.
But one thing is certain, and that is that the bite happened - except no one knew about it until Kaiya made a repeat performance. The reason is that members of Netanyahu's office made all those involved promise not to divulge the incident.
Apparently the bite didn't damper Netanyahu's affection for the dog, as he put posts on Facebook about "how much light Kaiya has brought to our home," and even introduced US Secretary of State John Kerry to the dog during his recent visit.
After Wednesday's biting, Or Alon said that when he and his wife Hotovely entered Netanyahu's home he asked them to be careful with Kaiya. Members of the household warned that she suffers from hearing problems and apparently gets startled when approached from behind, with the issue occasionally raising the danger that she might bite.
What will happen to Kaiya now? When asked if she would be isolated after having bitten two people, the Prime Minister's Office stated that as is practice, unless a complaint is filed there is no need to isolate a biting dog.
Topping off the unusual incident was Jan Cohen, Sarah Netanyahu's hairdresser, who took to Instagram to defend the dog he has grown to know and apparently love during his frequent visits to the residence. Cohen posted a picture of himself with Kaiya, accompanied by the hashtag #Kaiyadoesn'tbite.