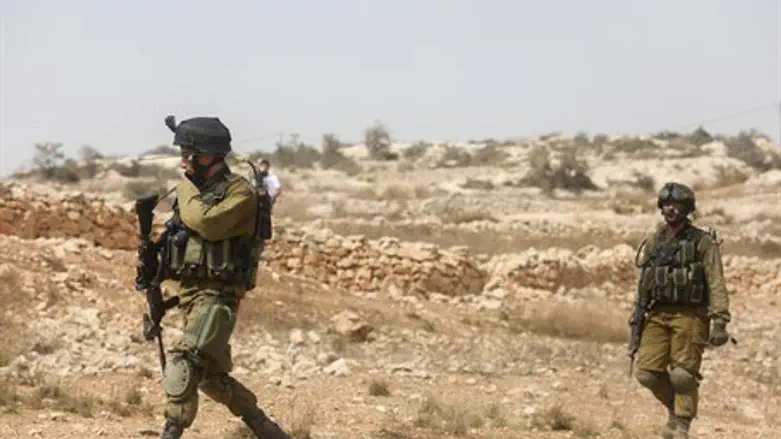 IDF soldiers (illustration)
STR/Flash 90
The central region military court on Wednesday handed down a 34-month active jail sentence to a Druze IDF soldier who leaked sensitive secret information.
The former armored corps soldier, Corporal Halal Halabi, was also demoted to the rank of private by the court, on charges of leaking information and aiding the enemy.
Halabi was convicted of passing classified information to a civilian regarding IDF activities on the Israeli-Syrian border, information that could severely harm the security of the state.
There have long been "spillover" attacks from across the Syrian border striking Israel, and in April an attempted border bomb attack conducted by the terrorist sons of an Israeli Druze was thwarted.
In the sentencing it was ruled that Halabi's actions constitute a serious breach of the trust placed in him as a soldier of Israel in a ranking position.
It was noted that even if he did not intend to harm the security of the state, he should have realized the threat inherent in his actions.
Halabi was accused of acting irresponsibly, and abusing his position and access to classified information.
A senior IDF source said "security and law enforcement sources in the army will continue to work seriously against anyone who abuses his military position to endanger the security of the state."
Most Israeli Druze, members of an offshoot religion from Islam, are loyal to Israel and serve in the IDF. However, many Druze residents of the Golan maintain loyalty to the Syrian regime.