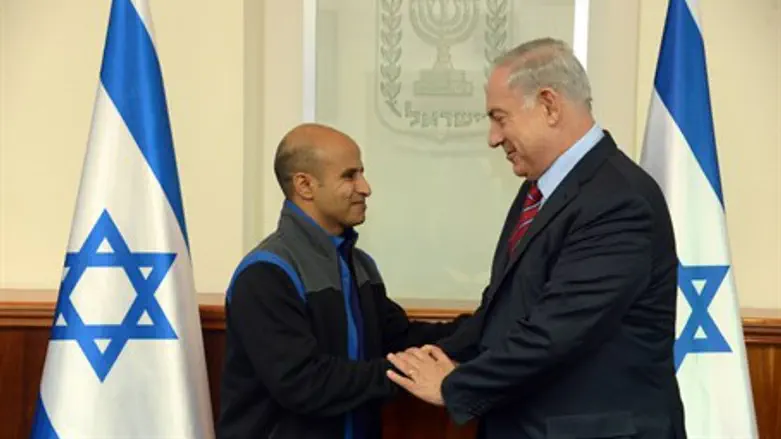 Ouda Tarabin meets with PM Netanyahu Thursday
Haim Zach/GPO
Prime Minister Binyamin Netanyahu met Thursday with the father of Ouda Tarabin, the Israeli Bedouin who was held in Egypt for 15 years before being released on Thursday.
Although the government said that Tarabin's release was not part of a prisoner swap, two Egyptians that Israel has been holding in prison were released as well.
Tarabin, who had been in prison on charges of spying for Israel, thanked Netanyahu for the government's efforts to release Ouda.
"We thank all those who helped," he said. "Now finally at age 35 he will be able to marry and have children." The family had been told that Ouda was to be released a week ago, the elder Tarabin said.
MK Ayoub Kara (Likud), the government's deputy minister for regional affairs, congratulated the family on Ouda's release.
"I was determined to remain in touch with the family for all the years Ouda was in prison," Kara said. "I promised the family that he would be released, and I am very happy to have fulfilled my promise."
Tarabin was arrested in 2000 after illegally crossing into Sinai, after being tried in absentia on previous charges of spying. Egypt has never made public the exact nature of Tarabin's offenses, but when he returned to Sinai in 2000 to visit family, he was arrested and immediately imprisoned.
Tarabin's dilemma occasionally made headlines over the years, and there were numerous reports of contacts for his release, though none of these came to any fruition.
Speaking Thursday, the attorney for the family, Yitzhak Meltzer, said that Tarabin's release was "a great for the family and Israel."