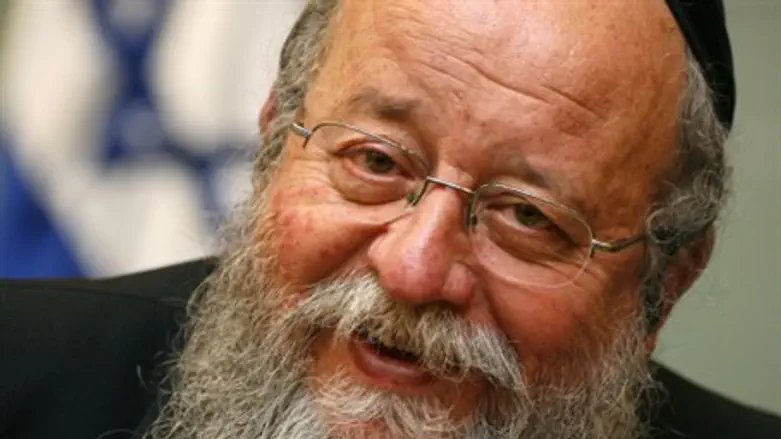 MK Menahem Eliezer Moses
Flash 90
MK Ksenia Svetlova (Zionist Union) filed a complaint with the Knesset's Ethics Committee Tuesday, in which she claimed that MK Menahem Eliezer Mozes (UTJ) purposely mocked her by mispronouncing her name.
The incident came during a debate over the defiant candle-lighting ceremony that was held by women at the Western Wall (Kotel) with Svetlova's assistance on Sunday.
"What a smashing victory," MK Mozes said disparagingly, in a speech from the plenum floor.
Noting that MK Svetlova used her parliamentary immunity to smuggle a communal menorah into the Kotel Plaza, he stumbled on her name: "Katania, Slavtania, I don't know what she's called, what the name is exactly…Tania." The comment can be seen at the 0:17 mark in the video below.
He said that the Western Wall is a place of unity, and that the women's candle lighting ceremony was "a disgrace and a shame."
Svetlova also stood up and said neither Mozes nor the Kotel Rabbi, Rabbi Shmuel Rabinowitz, have any right to decide whether women may light menorahs at the Kotel, or not.
Mozes got up again and apologized, saying that he had no intention of disparaging her. "Ksenia, I ask your forgiveness," he said, after mispronouncing the name one last time as "Ksania," and explained that it will take him time to get used to her name.
Apparently this was not good enough for Svetlova, who complained to the Ethics Committee and said that Mozes's words constituted "incitement against an MK and an entire sector."
She said that the Knesset must "display a unified and tough stance against racism." It is not completely clear if she was claiming that Mozes's statement was disparaging to women or to Russian immigrants, or both.