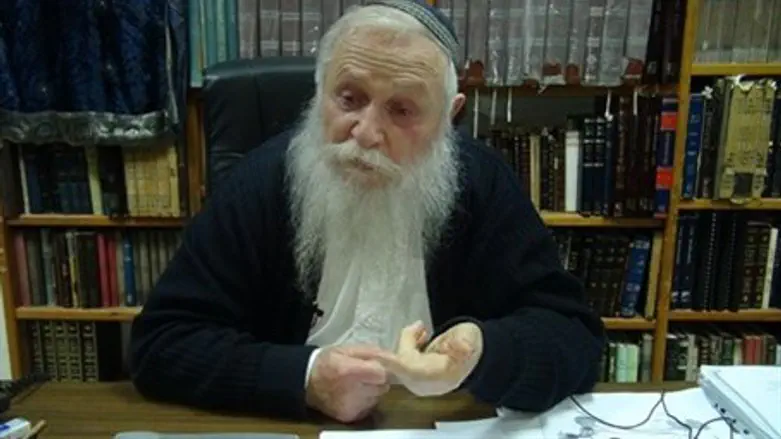 Rabbi Haim Druckman
Yoni Kempinski
IDF Chief of Staff Gadi Eizenkott announced Monday that the Or Etzion military yeshiva high school and dormitory will shutter its doors.
The move is being made due to budget cuts, Eisenkott's office said. The Defense Ministry confirmed the information.
Or Etzion is a yeshiva complex founded in 1977 by Rabbi Haim Druckman, who today heads the entire network of hesder - combined army and Jewish studies -  yeshivas in Israel and is a prominent and venerable leader of the Religious Zionist community. Or Etzion has a hesder program, as well as programs for students from the US and other overseas Jewish communities. 
Rabbi Drukman founded the only military yeshiva high school program in Israel at the complex. Another military high school is at the prestigious Reali High School in Haifa and that, too, will be closed.
Rabbi Druckman said that he was still hoping to reverse the decision saying: "We were very sorry to hear about this decision, and we hope that after an in-depth discussion the authorities will decide to continue with the program. During the years of the program the IDF has netted some wonderful leaders. It would only be proper to continue the tradition of excellence for many years to come."
Defense Minister "Bougie" Ayalon explained this evening that the decision to close the military high schools was final, although made with "a heavy heart."
"The high schools have contributed greatly to the IDF forces and its officers, manning command positions all the way up to that of commander in chief. Generals and senior officers from these schools have served on the ground, in the air and the sea to enhance Israel's security," he said. "However, we have realized that the need for the schools has lessened significantly. We have seen a rise in the number of one year post high school IDF preparatory programs, called mechinot, which attract many more students and are financially more feasible."
"There is no reason for a 14 or 15 year old to wear uniforms and be in an army framework. It is too young for that committment. However, this is the time to thank the commanders, teachers, counselors and whoever took part in this endeavor, one that educated thousands who grew up to contribute to the IDF and the State of Israel."