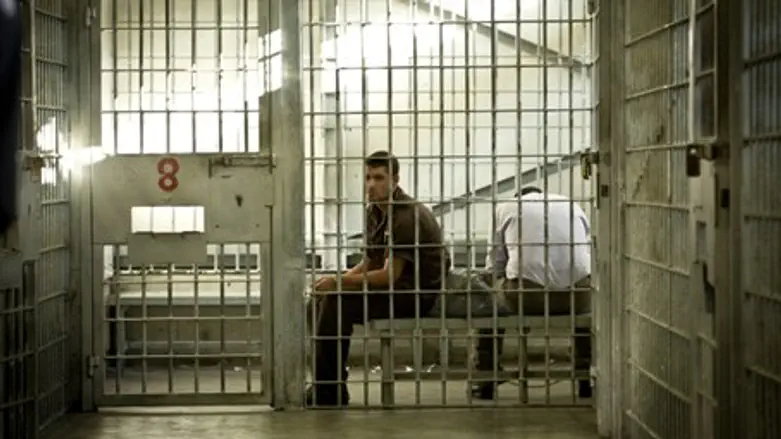 Jail (illustrative)
Flash90
Teens' participation in terror attacks has not only gained more prominence in the media, the Israel Prison Service revealed Sunday - it's affecting the prison population as well. 
The number of teens sitting in Israeli prisons as 'security prisoners' has risen 120% since September 2015, the IPS said - from 190 to 420 as of this month. The number of terrorists sitting in prison in total has risen from 5,700 to 6,100. 
The IPS has opened two new departments to deal with the demographic changes of teens in jail: a special youth division with 100 teens in Meggido prison and 45 in the Hasharon prison. 110 teens are serving time in Ofer, as well, with 70 teens sitting in Givon. 
Of the teens, approximately 20% are serving out sentences; 80% await trial. 
"Their routine is almost identical to the routine of other security prisoners, except for the fact that under the Compulsory Education Law, we are responsible for ensuring that all youth - even in a detention facility - will learn a few hours per day," Brig. Gondar Shimon Gur, head of the IPS Detention Division, stated to Walla! News.  
To that end, Gur noted that each youth wing incorporates classes from teachers certified by the Ministry of Education, in subjects such as Hebrew, Arabic, and mathematics. 
But besides for classes, the phenomenon has also introduced a unique social setting: prison wings for youths defined as "security prisoners" not only include the many Palestinian Arab teens who launched terror attacks against Jews and Israelis, but also teenagers the police or Israel Security Agency (ISA or Shin Bet) have jailed for right-wing extremism. 
Either way, the IPS is struggling to keep up with the influx of teen terror, another prison official confirmed.