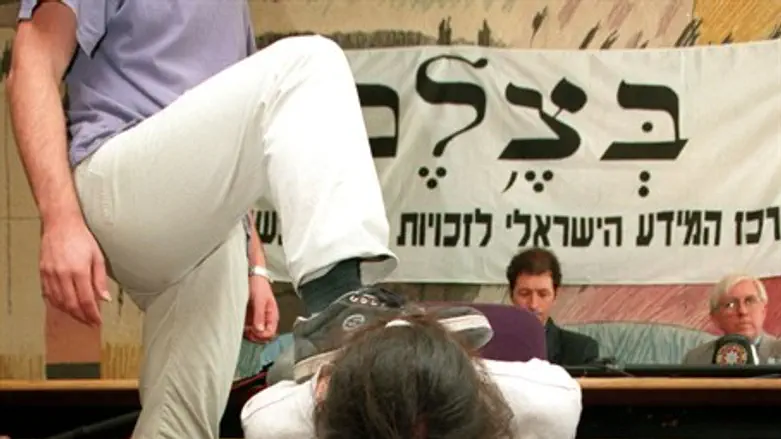 B'Tselem demonstration (file)
Flash 90
Attorney Tzion Amir, whose services were hired by the Honenu legal aid organization and the family of IDF combat soldier Ben Deri, told Arutz Sheva that while studying the soldier's case, he discovered evidence that the radical leftist B'Tselem organization is in ongoing contact with the police and IDF.
Amir made the worrying discovery from operational documents in the investigative file of the case, indicating the great influence of the European-funded radical group that has been accused of "hounding" Israeli soldiers, agitating violence against Jewish residents of Judea and Samaria, and trying to stir up "war crimes" charges against Israel internationally as seen in last summer's Gaza war.
According to the lawyer, the documents show that during the investigation of the soldier who is accused of shooting dead an Arab rioter during massive riots, police contacted B'Tselem to ask for evidence - including the bullet that allegedly hit the rioter.
"We have a document on a letter that was sent by an IDF source in the attorney's office to the organization B'Tselem, from which one can learn of the tight connection existing between them over a period of time," revealed Amir.
"The involvement of various sources that are not appointed to the investigation and enforcement bodies such as the police and the IDF sets off a red warning light for me."
The attorney called "to strictly examine the way in which the police and possibly other sources received evidence from Palestinian sources, with a goal of tracking the authenticity of the evidence - and to check that this evidence was not contaminated before being transferred to sources in Israel. We are at the height of investigating the matter with sources in the attorney's office."
Amir argued that it is unthinkable that decisive evidence like a bullet should arrive indirectly via Palestinian and anti-IDF sources, and not in real time.
"Why should a police officer think that the bullet is being held by B'Tselem, and why do they have continuous contact with the authorities?," posed the lawyer. 
"It frightens me that important evidence is not given to the investigative bodies in Israel by the Palestinian Authority in real time, but rather many weeks passed before the evidence reached the investigative bodies via external sources like the B'Tselem organization."