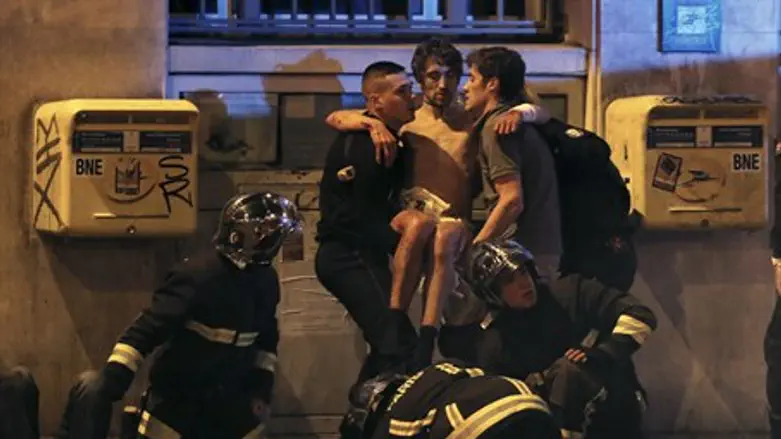 French firefighters aid injured victim of Paris attacks
Reuters
France is set to close as many as 160 mosques in the coming months, a top imam in the country said Wednesday. Hassan El Alaoui, who is the chaplain for Muslims in French prisons and is in charge of nominating imams for official positions, told Al Jazeera that the closure of three mosques this week was a precedent that was likely to turn into a trend.
"According to official figures and our discussions with the interior ministry, between 100 and 160 more mosques will be closed because they are run illegally without proper licenses, they preach hatred, or use takfiri speech," he told Al Jazeera. "This kind of speech shouldn't even be allowed in Islamic countries, let alone secure countries like France."
El Alaoui also justified the closure of the three mosques in Paris this week, saying that they were due to "some illegal things [authorities] have found." In the raid on a mosque Wednesday in Lagny-sur-Marne, 22 miles east of Paris, officials found Jihadist propaganda, as well as weapons. Mosques in Lyon and the Paris suburb of Gennevilliers were closed last week, because they were being used to "preach radicalization," officials said.
In a recent interview with Arutz Sheva, Meyer Habib, a Jewish member of the French parliament, said that it was time to shut down the radicalized mosques in France. "We will have to have a review of out national and international strategy in our war against the Jihadists," said Habib.
"We are going to have be more careful about identifying our enemies and our allies."
To reduce the ability of Islamists to organize and fight French democracy, said Habib, France may need to close mosques and other institutions where radicals gather. I was telling this many months ago to all who would listen, as well as those who would not," Habib said. "Unfortunately, we were too late, and Islamists were able to harm France. We can have no mercy on these terrorists."
Republican presidential candidate Donald Trump has also said he would consider closing some mosques in America with radical leadership because of the Paris attacks if he were elected president. "I would hate to do it, but it's something that you're going to have to strongly consider," he was quoted by The Associated Press as having said in an interview.
"We have to be much tougher," he said in another interview, according to AP. "We are going to have to give up certain privileges that we've always had. Well you're going to have to watch and study the mosques because a lot of talk is going on at the mosques," he stated.
Trump's comments came as the governors of several American states spoke out against Obama's plan to admit 10,000 Syrian refugees into the U.S. in 2016. At least one of the terrorists behind the attacks in Paris apparently entered Europe via Greece as a Syrian "refugee". The move, which began with Alabama and Michigan, quickly spread to other states, and by Monday evening, the governors of 24 states announced they would refuse refugees.