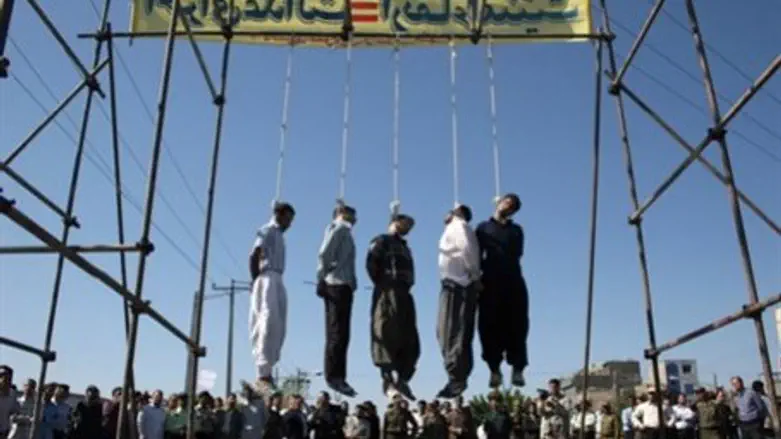 Execution in Iran (illustration)
Amnesty International
US State Department Spokesperson Mark Toner gave a particularly lackluster response on Tuesday to reports that an Iranian-American dual citizen had been executed by Iran, in a complete flaunting of US requests for a stay of execution.
The Iran Human Rights NPO reported on Tuesday that Hamid Samiei was executed on November 4 for an alleged murder committed in California. Samiei was arrested on his return to his Iran and sentenced to death for allegedly murdering another Iranian, identified as Behrouz Janmohammadi, according to the reports.
Samiei reportedly killed his erstwhile friend after the latter drew a knife on him during a quarrel. Samiei then returned to Iran in where he was arrested in 2008, and suffered "extreme torture and was forced to confess against himself, and a lot of his confessions were false." The report noted that Samiei's family visited the Swiss Embassy in Tehran to meet with representatives responsible for protecting US interests in Iran.
During his daily briefing on Tuesday, Toner was put on the spot by Associated Press reporter Matt Lee, who asked him about the reported execution.
Toner's comments can be viewed here.
Toner said that the State Department was notified of the case on October 28, after the Swiss Embassy in Tehran learned of the impending execution and relayed the message.
"We don't yet have official confirmation of his death and are obviously seeking more information. This case was brought to our attention on October 28, so a very short time ago," said Toner, emphasizing that the State Department was not informed of the case prior to that date.
"We're still waiting"
He said that the State Department contacted Iran to express concern about the apparent lack of due process, and to try to get more information about who Samiei was and about the case against him.
"We're still waiting for that information," he said simply, when pressed by the reporter.
Lee asked why the State Department expected a different response from Iran, which doesn't recognize dual citizenship and has regularly brushed off past requests on cases of dual citizens.
Toner worked his way around the question, saying, "we did work through the Swiss to try and get more information about this individual."
"Because we were so late in being notified about his sentencing we asked for a stay of execution," he said, to which Lee responded, "October 28 isn't that recently, we're now December."
"Yeah, well anyway, we don't have any idea when he was arrested or how long he was held," retorted a visibly flummoxed Toner.
When asked if the incident changes America's appraisal of Iranian cooperation, Toner tried to play down the incident by saying there's "nothing new here," to which Lee said, "yeah there is, he was executed."
"We'll raise our concerns"
The State Department spokesperson then indicated Lee was trying to imply the case undermines the trust of the JCPOA, the controversial nuclear deal with Iran, which Lee noted he didn't refer to.
Instead he asked what the report says about the cases of other Americans who have been detained for years by Iran, and the US, despite its many requests, has gotten "zero in response."
At least two other American citizens were arrested by Iran in recent weeks, and four others remain in custody having been held for long periods of time.
"We continue to raise at every opportunity the cases of" other US detainees in Iran, said Toner. "I wouldn't necessarily say we deal with Iran from a position of trust. That said, we're not going to stop raising the cases of these Americans."
Lee then asked hypothetically regarding Samiei, saying, "if he was in fact executed...I presume that you're not okay with that?"
"Well I think we'll raise our concerns because we indeed asked for a stay of execution until we got more details about his case and whether due process was followed; we do have concerns about the lack of due process and the lack of consul notification," was all Toner would say in response to the execution of a US citizen by the leading state sponsor of terror.