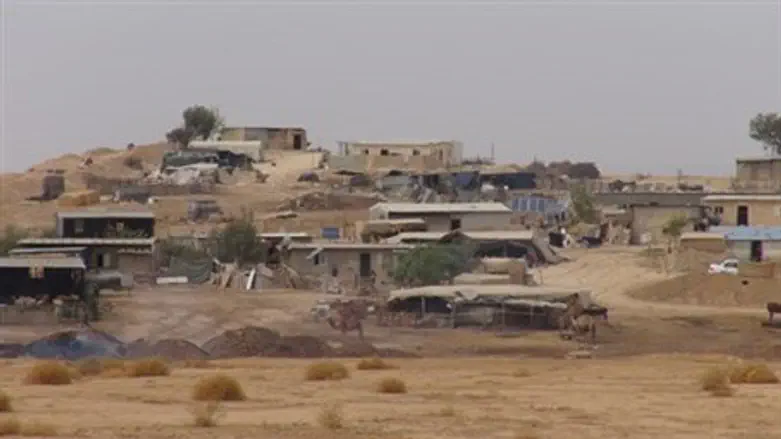 Bedouin community
Hezki Ezra
The Ministry of Education opened a new program targeting the influence of Islamic State (ISIS) on Monday - one aimed specifically at the Bedouin community of Hura in the Negev. 
Hura has become known as an ISIS hotspot, with several local residents declaring loyalty to the Islamist group. The Israel Security Agency (ISA or Shin Bet) arrested six teachers from Hura in July for joining ISIS and actively teaching its ideologies.  
More recently, Hura resident and terrorist Muhaned Al-Okabi carried out a lethal stabbing attack in the Be'er Sheva Central Bus Station in October after declaring allegiance to ISIS. 
To combat this, the Ministry has introduced the Taking Responsibility program, which aims to "intervene in the phenomenon of educational personnel joining extremist organizations in the Hura community." 
Walla! News reports that the program includes a series of workshops held with administrators, teachers, and students in Hura about Israel and Israeli identity, as a follow-up to a series of controversial Knesset Committee hearings held last week about incitement and the Bedouin sector. Those hearings concluded with the Committees instructing the Ministry of Education to examine curricula in Bedouin schools and reviewing teachers' backgrounds. 
Attorney Motti Yosef represents the Bedouin sector, and stated to the daily Monday that the rise of extremism is due to the marginalization of Bedouin within Israeli society.  
"As someone who works with the Bedouin sector for 19 years, I can say that there is extremism, although minor, which is the result of ongoing institutional neglect," he opined, adding that it "creates a vacuum which extremist Islamic elements fills."
"However, it is important to stress that leaders of the Bedouin sector condemn the phenomenon of radicalization and [the Bedouin sector] includes the most loyal citizens of the state."