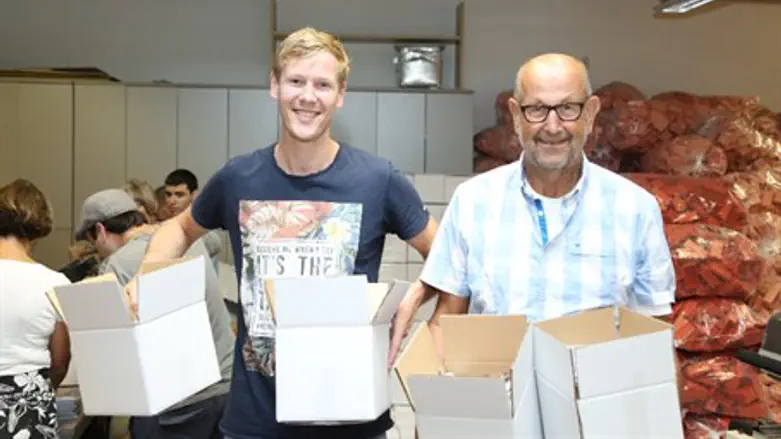 Lev Haolam volunteers packing boxes to be sent out to customers
Courtesy: Lev Haolam
The European Union's recent decision to label Jewish-made goods from "settlements" - including Judea, Samaria and the Golan Heights - is aimed at stifling Israeli businesses in those regions. The EU is Israel's largest trading partner, and the labeling decision's objective is to pressure Israel to withdraw from its Biblical and strategic heartlands by encouraging "limited boycotts" and enacting an economic cost.
But could one man's vision enable those communities to resist that pressure? 
Lev Haolam (literally: Heart of the World) is an organization that was created three years ago with the express purpose of helping small businesses in Judea and Samaria thrive and to combat the general BDS movement against Israel.
"We are on the front lines of the fight against the BDS movement," said Founder and Director of Lev Haolam Nati Rom in an interview with Arutz Sheva.
"The best way to fight the BDS movement is to create grassroots relations. To go out and meet people and talk to them about what is really happening in Israel and Judea and Samaria. So that is what we did," described Rom. "We went out and met people and we started selling products to alleviate the harm that the BDS movement is doing to the local businesses." 
Rom founded the Lev Haolam project three years ago, since then he has been packaging goods from Judea and Samaria and sending them to international customers who have decided to purchase products that are being affected by the BDS movements around the world. 
Nati Rom
Lev Haolam
"Making it easier for customers to purchase items produced in Judea and Samaria is also one of our goals," explained Rom. "We make every effort to protect the products and the producers from Judea and Samaria, and all of Israel," he said. 
The organization purchases a wide variety of products from small businesses in Judea and Samaria each month, and sells them to consumers around the world who have expressed an interest in purchasing the products or in helping Israel. Lev Haolam packages the products together and sells them to thousands of customers from across the globe, including many countries where BDS movements thrive such as Norway and Sweden. 
The packages often contain foodstuffs such as chocolate or fine wine, jewelry, organic cosmetics, keepsakes, and even home decor items. People who purchase the packages are showing their support in that they have not specifically requested these items, but receive a selection of items that is chosen by Lev Haolam.  
The organization has seen continued success since its inception, and now boasts thousands of customers, who receive monthly packages. In addition, the organization has also created a groundswell movement of supporters for Israel from across the globe, all of whom can lend a hand to Israel advocacy via social media.
The more the number of supporters grows, the more resources the organization has to be able to purchase products from Israel and ship them abroad, helping more Israeli businesses.
Prime Minister Binyamin Netanyahu sees Lev Haolam in action
Lev Haolam
Not only does the organization allow supporters of Israel to circumvent any BDS ban that may be taking place in their locale, but they also cut out the middleman allowing customers to purchase directly from the company that produced the product. Thereby, Lev Haolam also lowers the costs of these products for their customers.
When asked to describe his success, Rom relayed a story of how Lev Haolam greatly helped out one business last winter. "Last year, Shimon Barda from Itamar, who makes creams and fragrances, had his roof cave in during a very large snow storm that struck the area. He almost lost his entire product line.
"Lev Haolam purchased the entire lot from him, and sent it out to our customers. They helped save his livelihood."  
Rom stated that he is not afraid of the BDS movements or of what foreign governments dictate.
"Wherever there is a BDS movement, we go in to market our products," he explained.
Just last week his trip to Finland was put at risk and then cancelled due to probable security threats. Rom took the opposite approach and headed there in spite of the threats.
"If there is terror and BDS, then we must go there and spread the message," he declared. Rom pushed his way past a lot of red tape and was finally allowed to come. Now he has a fully booked tour with four lectures in different venues each night.