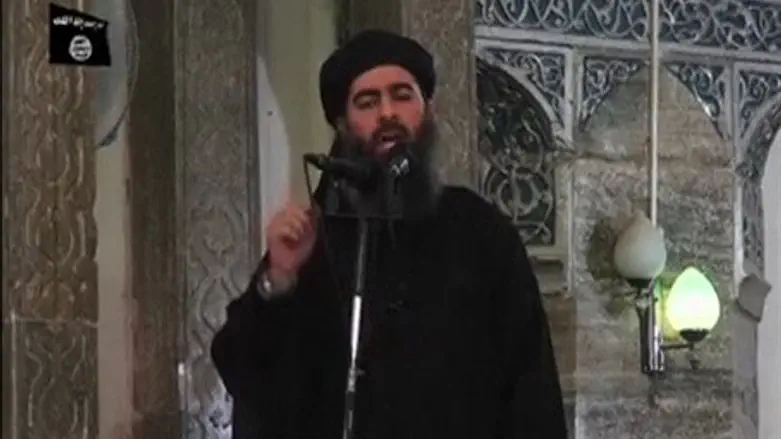 Abu Bakr al-Baghdadi
Reuters
Lt. Gen. (ret.) Michael Flynn, who served as head of the US Defense Intelligence Agency (DIA) from 2012 to 2014, spoke to the German Der Spiegel on Sunday about the war against Islamic State (ISIS).
Flynn, who was in Afghanistan and Iraq as director of intelligence for the Joint Special Operations Command from 2004 to 2007, was asked about how the US arrested Abu Bakr al-Baghdadi back in February 2004 and released him, allowing him to go on and establish ISIS.
Al-Baghdadi was in American hands in Iraq until a US Military Commission in December 2004 classified him as "harmless," and allowed him to go from Camp Bucca - a vast, American-run prison in Iraq which held many leading jihadists.
"We were too dumb. We didn't understand who we had there at that moment," admitted Flynn to the German paper.
He said the problem was not recognizing the identity of the radical Islamic threat and instead focusing on geographic threats, noting, "after the attacks of September 11, 2001, our emotional reaction was to ask: 'where did those bastards come from? Let's go kill them.'"
"Instead of understanding why they attack, we asked where, where did the bombers come from? We are strategically marching in the wrong direction," said Flynn.
Focusing on al-Baghdadi, Flynn compared him to Al Qaeda leaders Osama bin Laden or Ayman al-Zawahiri, who as he noted "in their videos were always sitting cross-legged in front of a flag with an AK-47 in their laps. They presented themselves as warriors."
"Al-Baghdadi in contrast spoke in a large mosque in Mosul, on the balcony, almost like the Pope. He appeared in a black robe, as a holy scholar and declared the Islamic caliphate. That was a very, very symbolic presence which has lifted the struggle from a military, tactical and local conflict into a religious and global war."
Turning his attention to the recent attacks by ISIS, including those in Paris earlier this month that left 130 murdered, Flynn said that people didn't take ISIS's threats that it would conduct international attacks seriously enough.
"We were not attentive enough," he said, noting that ISIS has a management structure that is planning attacks in numerous countries, possibly in the US as well.
Flynn also condemn US President Barack Obama, saying, "look at what happened in the past few days: the president of France asked the US for help militarily (after the Paris attacks). That's really weird to me, as an American. We should have been there first and offered support. Now he is flying to Moscow and asking (President Vladimir) Putin for help."
Airstrikes against ISIS in Syria and Iraq are not enough, he warned, saying that the West will need to deploy troops on the ground if it is to defeat the jihadist group.
"We have to work constructively with Russia. Whether we like it or not, Russia made a decision to be there (in Syria) and to act militarily. They are there, and this has dramatically changed the dynamic. So you can't say Russia is bad, they have to go home. It's not going to happen. Get real."