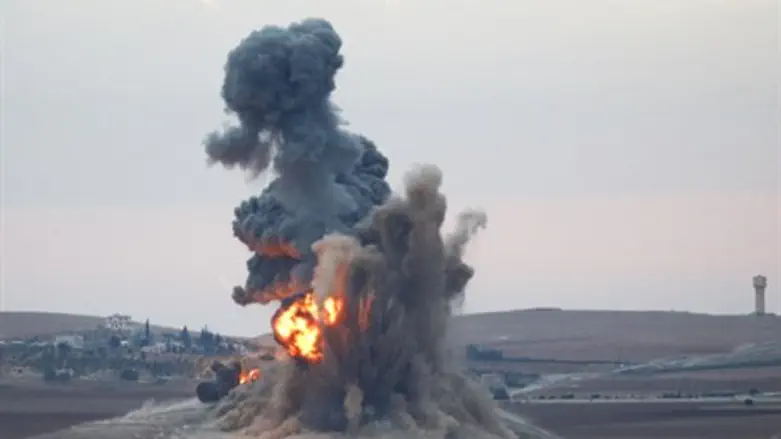 Airstrikes in Syria
Reuters
Britain's defense minister on Sunday said the government was intensively lobbying opposition Labour lawmakers to support airstrikes in Syria as efforts mount to force a vote next week, AFP reports.
Speaking to the BBC, Michael Fallon said that "we've been talking to Labour MPs all week" but that the government had "not yet" secured enough support to be sure of winning a vote to extend airstrikes against the Islamic State (ISIS) group in Syria.
Prime Minister David Cameron suffered a humiliating defeat in 2013 when opposition from Labour MPs blocked military action against Syrian President Bashar Al-Assad, and is expected to call a vote only when he is sure of winning.
Last week he laid out the case for British jets, already bombing ISIS targets in Iraq, to join France, the United States and others in targeting ISIS strongholds in neighboring Syria, saying Britain shouldn't wait until an attack on its territory to take action against ISIS.
Another defeat would be "hugely damaging to Britain's reputation across the world" and would "leave us less safe", said Fallon.
The defense secretary said fears that airstrikes would lead to civilian deaths were unfounded.
"The RAF have been striking with the permission of parliament in Iraq for over a year now and our estimate is there hasn't yet been a single civilian casualty because of the precision of their strikes," he said, according to AFP.
"They have been carefully targeted at [ISIS] command posts, [ISIS] supplies, [ISIS] supply routes," he continued.
Labour leader Jeremy Corbyn is opposed to the strikes and could whip his MPs into voting against them, despite many in the shadow cabinet expressing support for the government's plans.
Corbyn told the BBC on Sunday that he would ultimately decide whether MPs were allowed a free vote, putting him on a collision course with senior parliamentarians and potentially throwing the government's plans into disarray.
Cameron is reported to be ready to drop the vote if Corbyn imposes his line on Labour lawmakers.
Labour leaders are set to meet on Monday, where they are set to decide whether it will be a free vote.
"No decision has been made on that yet, I am going to find out what MPs think," Corbyn said. "I ask them to look very, very carefully at the whole issue, look at what will happen if we bomb Raqqa.
"It is the leader who decides. I will make up my mind in due course."
AFP contributed to this report.