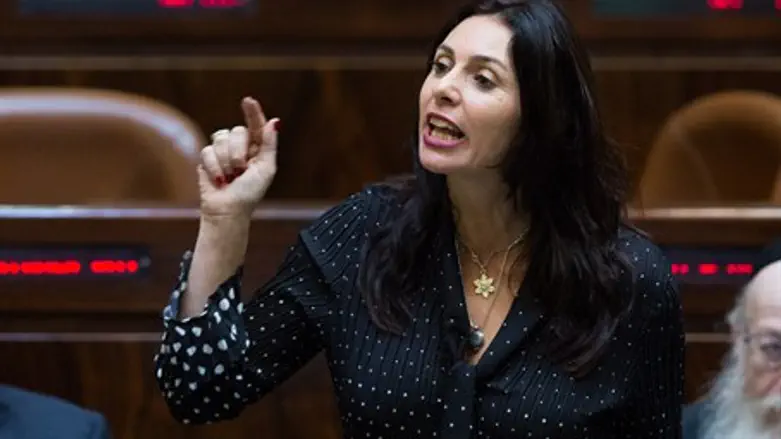 Miri Regev
Yonatan Sindel/Flash 90
Culture and Sports Minister Miri Regev on Sunday instructed the Director of Culture at her Ministry to establish a professional team that will examine concerns that the films shown at the "48mm" film festival, which has also come to be known as the "Nakba Film Festival", do not violate Article 3 in the Budget Foundations Law, which stipulates that the State of Israel will not fund any artistic works that encourage incitement to racism and support an armed struggle against Israel.
"48 mm - The International Film Festival on Nakba and Return" is an annual film festival hosted by leftist organizations. "Nakba" is the word used by Palestinian Arabs to describe what they see as the "catastrophe" of the establishment of the State of Israel in 1948
The members of the team appointed by the Culture Ministry will be tasked with watching the films taking part in the festival. They will then submit their professional opinion on the films to the Director of Culture who will in turn discuss the findings with the Attorney General, Minister Regev and the Director-General of the Culture and Sports Ministry.
Based on these opinions, Minister Regev will decide whether to contact the Ministry of Finance to enforce the law and revoke the funding from the films.
Last year, Regev asked the Finance Minister to revoke the budget of the festival without a professional opinion, without a thorough examination of the works themselves, and without presenting evidence that they indeed incited to violence against Israel.
"We, as those responsible for the public coffers, cannot turn a blind eye when there is the slightest suspicion that the law in Israel is being violated," Regev said Sunday. "We must examine things on a professional level. It is our responsibility and our authority to act according to the law and to ensure that public funds are not diverted to incitement against the state."